'30 Rock' Tearjerker Finale: Why It Was So Hard To Say Goodbye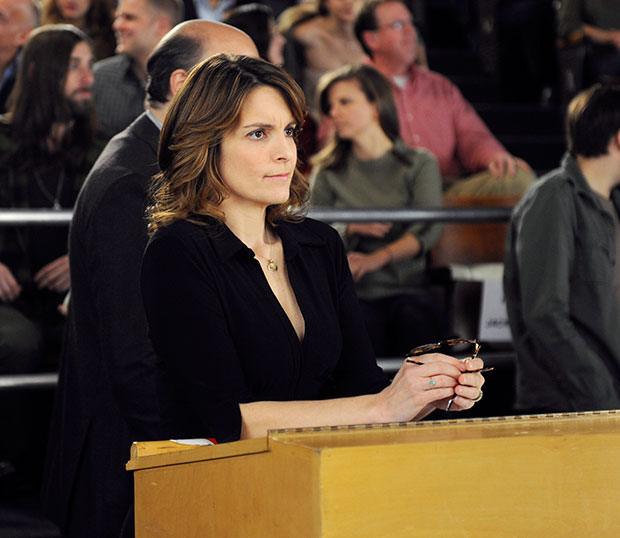 30 Rock has never been the type of show to make you cry. At least, not the usual way (out of your eyeballs instead of your mouth). The show has never been overtly sentimental or sad — not exactly a small screen P.S. I Love You. (As Liz Lemon says, "No one should have to be married to Gerard Butler or Hilary Swank!") 30 Rock lives in a purely comedic world where reality, absurdity, and rapid-fire jokes intertwine in one of the most wonderfully weird things to ever be on television. It has had its sweet moments, for sure (especially when showcasing the tight-knit friendships of the series), but never went for hackneyed sentimentality to which so many sitcoms are privy.
RELATED: '30 Rock' Finale Recap: I Will Never Forget You, Rural Juror
Yet I, like so many other fans who watched the series finale, found myself weeping at the conclusion of the episode. Real, actual eyeball tears. Whereas Seinfeld, another beloved show about a group of angry New Yorkers, maintained its aloof cynicism right through the end, 30 Rock went out in a more typical sitcom fashion, opting for sentimentality… but it did so in the least typical way possible. (Visions of Jack McBrayer's Kenneth Everlasting in the future!)
I was absolutely leveled by Tracy's (Tracy Morgan) painfully honest heart-to-heart with Liz (the great Tina Fey) about why goodbyes are impossible for him. When Jenna belted out the brilliant "Rural Juror" Broadway revival theme song, singing through tears, you could tell that Jane Krakowski was no longer acting. (If you get the chance, read Rolling Stone's insightful cover story on the final days of 30 Rock and re-watch the finale. What the actors say about the show and what it meant to them will resonate with every scene.) Don't even get me started on that lump in the throat-inducing scene between Jack (Alec Baldwin, worthy of every last award he has ever won) and Liz, reconciling their complicated relationship and expressing their love for one another in an absolutely perfect way. But it didn't feel like a manipulation of emotions or a stray from the core of the show. It was the happy ending we wanted for all of these characters, who we, too, have come to really love. 
RELATED: '30 Rock' Yearbook: 30 Characters, Quotes, and Cheesy Blasters From the Past 7 Seasons
Sure, it's always sad when any show you love goes off the air, but there's something that runs a little deeper when it comes to 30 Rock. The series finale, especially those last few moments, felt like a love letter to the fans who stuck it out against all odds, through all seven glorious seasons and depressingly low ratings. 30 Rock was not a show for everyone, but it meant a hell of lot to the people who got it. Fey's Liz Lemon was a female protagonist we'd never had on television before, and one who spoke to a hell of a lot of women. There was something comforting in her love for food and Star Wars, her compulsion to live for her job while resenting every second of it, her state of being as a perpetual mess and her ability to take s**t about it, her propensity to date the wrong men and wear the wrong shoes. This was us. And it was also L.L. and she is the coolest nerd to ever walk the Earth.
RELATED: Ben and Jerry's Announce '30 Rock' Flavor: Other Shows That Could Be Yummy
30 Rock has been a comedy lover's dream come true, an ongoing in-joke that would speak to a contingent of nerds who grew up appreciating the stuff their classmates never quite understood. The world can be an isolating place, so when something gets you and your infinite weirdness, well, that's a hard thing to let go of. As such, it's a bittersweet goodbye. The show will live on in syndication and hopefully inspire a whole new generation of jags, geeks, and comedy aficionados. But above everything else, the door has been opened for more female characters like Liz Lemon, and more showrunners like Fey. So, it okay, don't be cry, 30 Rock fans. The infinitely re-quotable comedy will live in our vernacular for a long time ("Blerg!"), and its mark on comedy and television will be felt well into the future… where NBC's Future Kenneth makes TV great again. And I love it.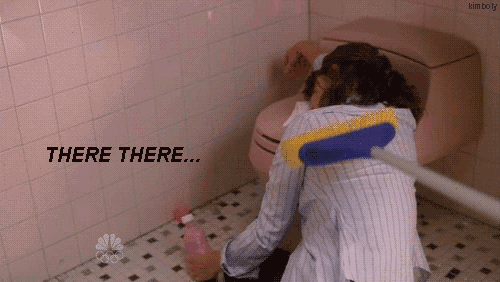 [Photo credit: Ali Goldstein/NBC]
---
You Might Also Like:

Who Wore This Crazy Hat?

Stars Who Changed Their Look