5 Olympics Burning Questions, Starting With: 'What Happened to Michael Phelps?'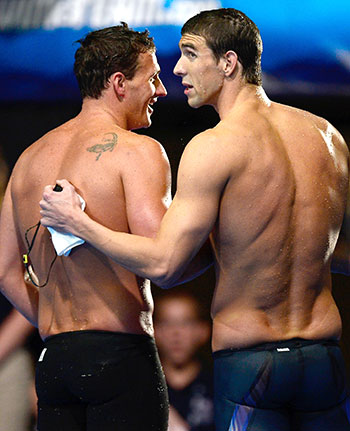 There are few times when the worlds of international news, pop culture, and sports converge as greatly as they do during the Olympics, unless of course another international superstar musician starts dating Tony Romo again. (Please, no.) This unique convergence means that along with our united interests come some rather large burning questions, and with just a few Olympics days under our belts, our brains are already reeling. What's going on with the U.S. Men's Swim Team? Where is Ryan Seacrest? And can you see the torch? We certainly can't.
We're curious about some of these talking points, too, so we did some digging into this year's summer games to find out a little more about what's happened so far.
What happened to Michael Phelps?
After dominating the fledgling sport and bringing it to our collective consciousness during his eight-medal sweep at the Beijing Games in 2008, Michael Phelps entered his last Olympics with a hefty set of expectations on his shoulders. He holds the records in seven major swimming events, including the 400 meter individual medley, which was the event that earned him the worst kind of attention over the weekend. Phelps fell to teammate Ryan Lochte, who nabbed the gold while Phelps was stuck in fourth place. So what's the deal?
Phelps, who began setting Olympic records at age 23, is now 27. And while Lochte is around the same age — he'll be 28 on August 3 — he's without the records and prestige that Phelps has amassed. It's possible that the record-breaking swimmer, who is set to retire after the London Games, is winding down, while his teammate, Lochte, came to London with plenty to prove. Still, it was Lochte and not Phelps, who was in the pool when French swimmer Yannick Agnel wasted the U.S.'s lead in July 29's 4-100 Meter Swimming Relay, upsetting the U.S. team. In fact, Phelps refrained from giving up even a shred of the U.S.'s lead when he took to the water during the relay, proving this dynamic isn't as simple as Saturday's events might project.
Besides, there are still plenty of swim events left in the 2012 games, so it may be too early to call Phelps' true 2012 fate. However, watching him falter in what many consider to be "his" event surely stirred up chatter amongst even the most stalwart fans.
Where is Ryan Seacrest?
NBC was all a-twitter when they announced in April that Seacrest would be joining NBC News in time to help out with Olympic coverage. But that was a lot of talk for not a lot of Seacrest. Where is he? We've seen the American Idol host and media mogul conduct a few choice (and rather fluffy) interviews with Olympic celebs like Jordyn Weiber and Phelps, but why isn't he popping up anywhere else?
Well, let us consider Seacrest's background and expertise: he's a pop culture guy. One does not simply walk into sports journalism; it's a profession that requires years of cultivated knowledge, research, and expertise. Sports reporting and commentary is based on incredible attention to history and detail, and in that realm, Seacrest is at a bit of a loss. He simply doesn't have the experience to be spouting off his ideas about the men's swimming competitions.
Still, this doesn't answer the bigger question which is: why didn't NBC use America's favorite TV host to guide us through that lengthy (yep, that's the word we'll kindly go with) opening ceremony? 
Why is the Olympic Cauldron not elevated above the stadium?
Speaking of the opening ceremony, how about that cauldron? Sure, we enjoyed the flash of David Beckham blessing the passing of the torch with his speed boat and beguiling smirk and those copper petals coming together to were a thing of beauty. But as Sir Paul McCartney played his iconic tunes to celebrate the lighting of the eternal flame, the cauldron stayed firmly situated on the floor of the stadium – a direct conflict with Olympic tradition which commands that the flame be visible throughout the city. Normally, the flame is elevated to a location at the top of the stadium to allow for such visibility and seeing as the London Olympic Stadium was built for these 2012 games, it's a wonder that it was not built with the capacity to carry on that tradition. According to the Daily Mail, it was kept low to keep it "grounded" and "with the people." But what about tradition, London?
And there's more. As if that wasn't enough, the flame was also reportedly put out over the weekend to allow for organizers to move the cauldron – however, all that moving still hasn't made the flame visible to the entire city of London. Luckily, Olympic organizers do keep a torch from the "mother flame" in Athens on hand for such circumstances, and the London cauldron was reignited with the fire descended from the original blaze. So at least some traditions are still in tact. 
Is Jordyn Weiber out for the rest of the games? Why was she so upset on Sunday?
When America's gymnastics sweetheart competed on July 29, she walked away from her events in tears. She lost her shot at the two remaining All Around spots to her younger teammates, Ali Raisman and Gabby Douglas — a spot most casual Olympic viewers assumed she'd nab. But Wieber fans fear not: she's down but she's not completely done with the games. We can still watch the Michigan native do her part for the U.S. Gymnastics team during July 31's women's team finals. Her ability to win individual medals, however, is gone.
Let me posit this notion for fans who are still mourning her loss: the prospect of watching newcomer Raisman is a thrill in and of itself. Her skill is well beyond her years, and while Weiber may be teary, she can't deny that her teammate deserves her spot.
How does this Independent Olympic Athletes thing work?
Remember those dancing Olympians during Friday's open ceremonies? They weren't a fun little joke or a group of randos who snuck into the stadium. They're actually a group of Olympians with no country. After the dissolution of the Netherlands Antilles in October 2010, these athletes were left without a country to sponsor them and as the rules go, they are allowed to compete under the Olympic flag itself. The three atheletes dancing around Olympic stadium were Lee-marvin Bonevacia (Track and Field), Reginald de Windt (Judo), and Philipine van Aanholt (Sailing). 
In addition, the trio from Netherlands Antilles will be joined by Guar Marial of Southern Sudan, a country whose recent split from Sudan meant there was no time to form an Olympic committee for the 2012 Games. These athletes have yet to compete in their events, but Aanholt's first sailing event takes place today. Still, we think they should at least win a medal for best opening ceremony entrance.