5 Reasons Why Michael Strahan is Ready for Morning Television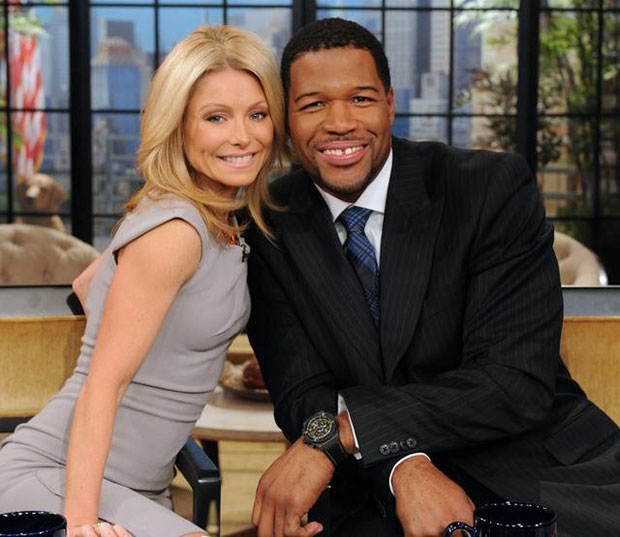 In what may be the most recent example of "the worst-kept secret in Hollywood" (a phrase that comes and goes every time the network suits try to hide a rumor that won't rest until it worms its way out through the annals of TMZ), the television industry is expecting ABC to announce that former footballer Michael Strahan will officially step in as Kelly Ripa's new co-host in the slot vacated by Regis Philbin on Live! with Kelly.
The program (which ostensibly must be changed now to Live! with Kelly and Michael) announced on Monday that it wouldn't be revealing Ripa's new co-host until September 4, leaving the Internet to wonder which of Ripa's 59 celebrity guest hosts would fill the empty cushioned chair that Philbin left when he departed the show in November 2011. Mere hours later, TMZ reported that the new host would be none other than Strahan, the former defensive end for the New York Giants.
Strahan has already hosted the program a whopping 14 times (since October 2011), so he's no stranger to the morning hours, the strained perkiness or the croissants. In anticipation of the September 4 announcement, here's a primer in (mostly) everything you need to know about Strahan's history with morning programming:
He's game for anything. Like, seriously, anything.
He'll do that whole "let's bring animals on the show" thing that morning shows do.
He has a live TV history of charming outrageousness.
He's been dunked and shirtless.
He dances.
Follow Marc on Twitter @MarcSnetiker
[Photo Credit: Sandy SooHoo/Disney ABC Domestic TV]
MORE:
5 Reasons Seth Meyers Could Be Better Than Regis Philbin
Could Seth Meyers Replace Regis Philbin on 'Live! with Kelly'?