Why 'Twisted' Will Be Your New TV Obsession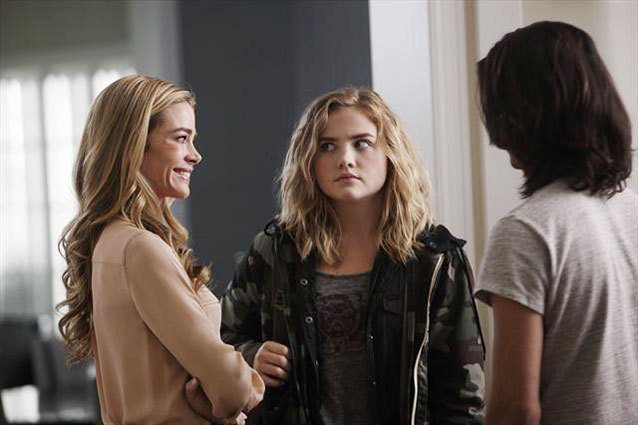 How can you tell if someone is a sociopath? It's an intriguing yet terrifying question that many of us have never had to consider. However, after tuning in to tonight's sneak peek of episode of the new ABC Family drama Twisted, you'll never look at your family and friends the same way again.
Following the heart-pounding Season 4 premiere of Pretty Little Liars, stay tuned to catch the entire first episode of Twisted — an hourlong murder mystery thriller that will make you gasp from disbelief and shriek, then sigh contentedly because you've found your next new favorite show. To get you as excited as we are, Hollywood.com chatted with star Maddie Hasson to bring you five terrifyingly fun reasons why Twisted will quickly become your newest TV obsession.
1. If You Love Pretty Little Liars… You'll absolutely adore Twisted. Set in the small east coast town of Green Grove, a murder — or should we say murders — devastates the community and it's nearly impossible to tell who can be trusted. "I think fans of Pretty Little Liars would love Twisted," Hasson says. "It has that dramatic element that Pretty Little Liars perfects in all their episodes, where you never know what's going to happen next."
But the mysteries that plague Green Grove are completely different from the black-hoodie events we've watched in Rosewood. The actress explains that Twisted captures the essence of all ABC Family's shows, but presents it in a way we've never seen before. "There's tons of twists and turns, and every episode is going to leave you thinking, 'I have no idea what could possibly happen next!'" she says.
2. The Ultimate Bad Boy: Twisted centers on Danny Desai (Avan Jogia) and believe us when we say that you've never met a bad boy quite like this before. Danny is a teen with a troubled past who returns to Green Grove after spending a good majority of his youth in juvenile hall. Although we cannot reveal exactly why Danny was locked away in Juvie for so many years, we can tell you that it's a jaw-dropping, throat-clutching, can't believe ABC Family let this one slide answer. In short: it's terrifyingly twisted. "Oh! We're going for it!" Hasson teases. All we can say is you need to watch tonight's episode, because you wouldn't believe us even if we told you!
3. Three Lovely Ladies: Way back in the simple yet splendid days of middle school, Danny, Jo (Hasson) and Lacey (Kylie Bunbury) were best friends — but now many years and one horrific experience later, the three have drifted apart. Hasson explains that the two former lady besties have now become polar opposites of one another. "They both really just went to opposite ends of the spectrum, personality-wise. Lacey became this popular outgoing person," she says. "And Jo became super reclusive. She dresses really grungy and she likes to keep to herself and is very solemn in the first episode."
Adding to the mix is Regina (Karyn Moore), Lacey's closest friend in the popular clique. Hasson explains, "Regina is probably the sassiest and her character is really vivacious and cool. You're going to love this character because she is hilarious in literally every scene." And if you're guessing that ABC Family is laying the groundwork for some potential love triangles then you would be very correct. Hasson teases, "It's really possible that it could go there, they all have really individual strong bonds with each other so I feel like it could definitely cross that line at some point."
4. Hot Mama: Two words: Denise Richards. That's right the Wild Things star is ready to unleash her inner Stepford Wife as the mother of our troubled protagonist Danny. Richard plays Karen Ryder and Hasson describes her as a Real Housewife of Green Grove. "She is really good at putting on a good face. She would be great at giving interviews or being a politician," Hasson says of Richards' character.
From an outsider looking in, it would appear that Karen is thrilled to have her son back home, however appearances can be twisted into hiding one's true feelings. "I'm not even sure of her feelings on it honestly," Hasson says. "Her character is that good at concealing what she's feeling. [Karen] is one of the most mysterious characters in this show." Hmm, and so the plot thickens!
5. Worth the Wait: By now you should be jumping up and down with anticipation for tonight's episode — but keep in mind, future Twisted lovers, this is just the beginning! The series will leave you craving more more and this season will be a truly Twisted journey.
"The last scene leaves you with such a cliffhanger that it's really mean of them to do this," teases the 18-year-old actress. "I haven't even gotten the second script yet and I'm dying and waiting to see what happens next. After the last scene you're going to want to see where the relationship between Danny and Lacey and Jo goes. It's on the edge of being something more with each of their characters, but you'll have to watch what happens next."
Don't miss the series premiere of Twisted tonight at 9 PM on ABC Family.
Follow Leanne on Twitter @LeanneAguilera| Follow Hollywood.com on Twitter @hollywood_com
More:
'Pretty Little Liars': Who Will Be The Next Death In Rosewood? — Vote!
'Pretty Little Liars' Fans Will Get A Shocking Reveal In Season 4 Premiere
'Pretty Little Liars' Season 4: Is Mona Officially Off The 'a' Team?
---
From Our Partners:


Zoe Saldana Strips Down For Magazine (Celebuzz)


33 Child Stars: Where Are They Now? (Celebuzz)