5 Things You Need To Know About Last Night's Grammys
The biggest night in music was last night and as usual it was a spectacle to behold. Maybe you didn't have four hours of your life to spend watching musicians reward each other and deliver ho-hum performances or maybe you fell asleep in the middle, but we've got you covered. Here are the essential things you need to know about last night.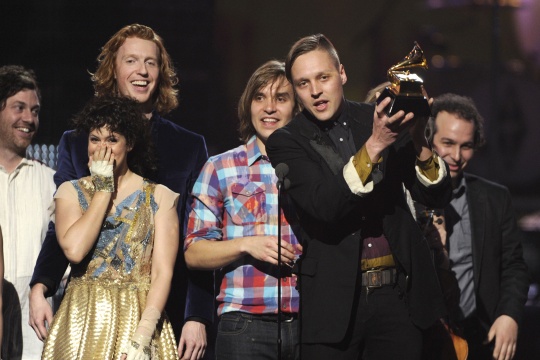 1. Score one for the Indie Kids
Much to Lady Gaga's chagrin, she did not take home the big prize last night. Indie rock band Arcade Fire sweetly took the stage, jumping up and down as they accepted this year's biggest award in music. Obviously we're all happy for them, and watching them play an encore with their trophy onstage was heartwarming, but please tell me you saw how Guhgah covered her face with that impossibly large black hat to hide her incredible rage and jealousy (you obscure your face, and we're forced to assume the worst).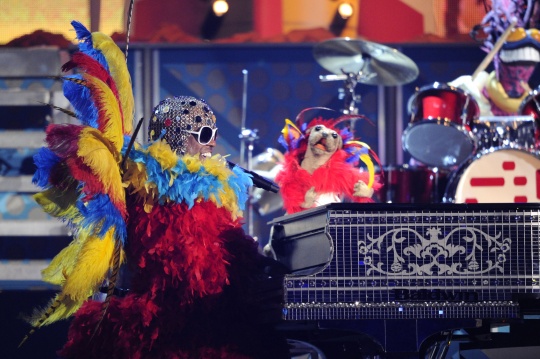 2. Cee-lo Green is the coolest mother-f***er
Yeah, we all knew that Gwyneth Paltrow would show up (although no one warned us that she would be rolling all over that piano like a drunk housewife wearing her daughter's hot pink feather earrings from Claire's), but the real treat of last night's performance of the "Song also known as 'Forget You'" was mother-f***ing Cee-lo Green in a giant feathered costume with a rhinestone chainmail headpiece. Someone's trying to make Elton feel inferior. Even though the song didn't take home any awards, this performance was enough of a win in itself.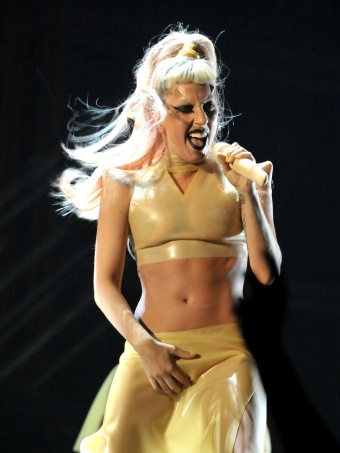 3. Lady Gaga is a dinosaur baby wearing a giant condom
Besides the fact that her obtuse stunt of emerging from an egg to perform "Born This Way" didn't manage to fix the fact that the song is a total rip off of Madonna's "Express Yourself," can we pause a moment to look at what she decided was an acceptable costume? Do I really need to say anything else? Just look at her.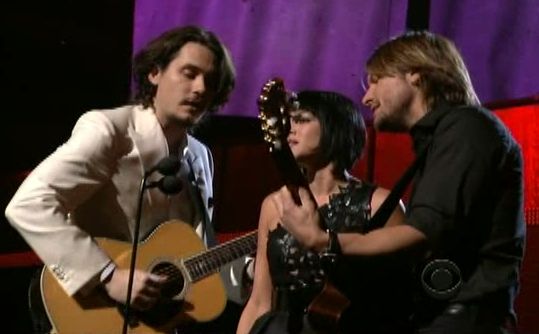 4. At least Christina Aguilera can get a rest from all that National Anthem heat because John Mayer doesn't know the words to "Jolene"
I love him, but he did not have any clue what he was singing, and he looked like a 1970s porn star. Get it together John. Also, it's too bad Aguilera couldn't manage to enunciate the words to her Aretha tribute either because we may have almost forgotten the fact that she can't seem to sing lyrics correctly unless it has something to do with genies in bottles or getting dirrrrrty. She shouldn't worry about that either though, because all anyone's talking about now is how she fell on her way off the stage. Sorry, Christina.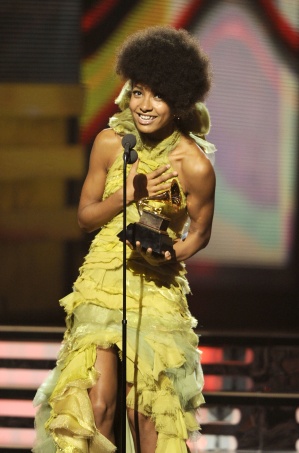 5. Justin Bieber didn't win "Best New Artist" — it went to some chick you've never heard of
We knew this would get the Beliebers all riled up, but seriously, WTF? Who is that girl? I'm sure she's very talented, but let's be real. The Grammys aren't really about the "best;" they're about the biggest names of the best artists who everyone knows and managed to have an opinion about. That means we should at least have heard of our "Best New Artist" once before. We shouldn't see her for the first time and say, when did Willow Smith get so tall? Besides, did they suddenly forget about Florence and the Machine? Had they never actually heard Mumford and Sons before they rocked the stage last night (until gargly mouthed Bob Dylan threw a wrench in it)? There were clearly other choices that would have satisfied us all (minus a remarkably powerful faction of 13-16 year old girls).