7 Burning Questions We Hope Oprah Will Ask Lance Armstrong Tonight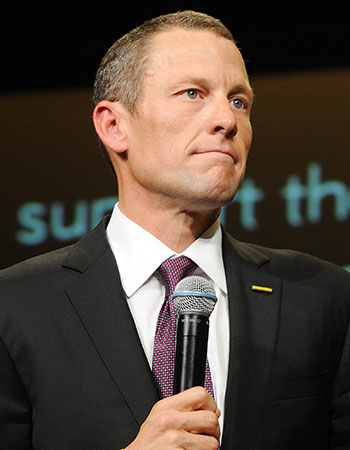 It's almost here! Lance Armstrong — leader of one of the biggest scandals in professional sports history — will discuss his cheating past with the one and only Oprah Winfrey tonight in a "no-holds-barred" televised interview.
This is the first and only interview Armstrong has participated in since the seven-time Tour de France winner was stripped of his titles and dropped from millions of dollars in endorsement deals. And as of Thursday, the International Olympic Committee has stripped the cyclist of the bronze medal he won in the 2000 Olympic Games in Sydney, Australia. Yikes!
According to Oprah.com, "Armstrong will address the alleged doping scandal, years of accusations of cheating and charges of lying about the use of performance-enhancing drugs throughout his storied cycling career."
While we're sure that the world-famous talk-show host will ask plenty of hard-hitting questions we at Hollywood.com have a few suggestions too. Here are seven questions (one for every Tour de France that he cheated in) that we hope will be addressed:
1. Sheryl Crow was engaged to Armstrong during the height of his victories; did she know that he was using illegal drugs while competing?
2. We know that Armstong has been stripped from of his titles, but does he physically have to return the trophies?
3. Did he ever feel a moment of regret or remorse, or did the thrill of victory overshadow those emotions?
4. Does he feel like he could have ever won the Tour de France without doping?
5. How exactly did Armstrong get away with it for so many years?
6. Was it his idea to use the blood transfusions or a trainer's?
7. Does he know that he's currently the world's biggest jackass?
Check out the overly dramatic first look video from Winfrey's interview with Armstrong below.
You can watch Armstrong's two-part interview Thursday, Jan. 17 from 9-10:30 p.m. ET, and Friday, Jan.18 at 9 p.m. ET/PT on OWN. The interviews will also be simultaneously streamed live worldwide both nights on Oprah.com.
Will you be watching Oprah's interview with Lance Armstrong tonight? What do you think of the steroids scandal? Think he regrets it? Tell us your thoughts in the comments below!
Follow Leanne on Twitter @LeanneAguilera
[Photo Credit: WENN]
MORE:
ance Armstrong Confesses to Doping in Oprah Interview — Could He Face a Perjury Charge?
Oprah to Talk to Lance Armstrong. What Are Her 10 Most Awkward Interviews Ever?
It's a Bad Day to be Lance Armstrong

The Cutest Celebrity Kids! (Celebuzz)