7 Times Peggy Olson Stole the Show On 'Mad Men'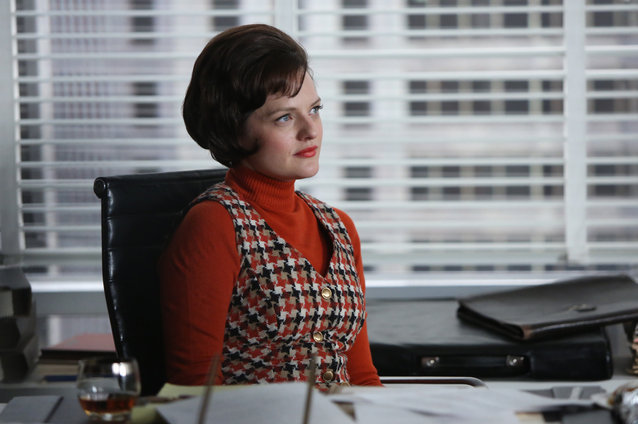 AMC
The first episode of the final season for AMC's Mad Men airs this Sunday (finally!) and we all know what that means: more Peggy Olson. Now, some folks are calling her "the new Don Draper," and while that's all fine and good, we're quite content knowing that she's just plain Peggy. Plain, old, copy-writing, ass-kicking, forward-thinking, marijuana-smoking (occasionally), brilliant, amazing, everything-that-Don-Draper-could-never-be Peggy Olson. And the actor who portrays her, Elisabeth Moss, is just as awesome for that matter. Here are seven times (of many) when Peggy Olson — the only employee at Sterling Cooper & Partners who can legitimately work and drink at the same time — totally stole the show.
Basket of Genius
When Peggy hit Freddy Rumsen with the "basket of kisses" line that went on to become the Belles Jolie ad, we knew she was something special. She stood out in a room full of women trying on lipstick because — like the men behind the glass — she was more interested in observing than anything else (you can see this at the 4:02 mark). Unlike the men, though, she was attentive to nearly every detail of the experience. As a result, she was able to come up with the brilliant copy that would mark the beginning of her career.
Bye Bye Peggy
We all remember the episode that opened with the clip of Ann-Margret belting out Bye Bye Birdie. But just as memorable was the moment when Peggy — a solitary girl in her dark apartment — sang the song in her mirror while no one listened.
Peggy Olson Meets Mary Jane
She knows who she is, and knows what she wants. "I'm Peggy Olsen. And I want to smoke some marijuana." This is still one of the most important lines of the series. Not because marijuana was so important (although it does function as this strange sort of guest character), but because it was one of the first times when she firmly asserted herself. It was the beginning of a new era of Peggy who wasn't just going to speak up about "brassieres and body odor and make-up." 
The Nudist Experiment
"I can work like this. Let's get liberated." Another hugely important line in Mad Men history. When Peggy stripped down in front of Stan Rizzo and totally called his bluff, it was nothing short of epic. After hours of babbling about wanting to be free and nude, he couldn't handle a little Peggy O sans threads. And let's face it, neither can we. You can see a clip from the scene at the 2:45 mark of this video.
Calling "Bulls**t"
Truthfully, Joan and Peggy are a perfect team here, but it is important to note that this is a rare moment when someone calls the incomparable Joan Holloway on her "bulls**t" and even Joan can't argue back. She, like Peggy, is guilty of loving her job way too much.
That Moment We Realized What Peggy Olson Really Means to Don
If this doesn't bring tears to your eyes than you are either a) someone who has never watched Mad Men and has no understanding of the significance of Peggy quitting, or b) a humanoid robot, devoid of feeling and emotion.
Every Moment Compiled in This Montage
Even when she was apologizing all over the place and super-mousy, you couldn't help but want to know more about her. And when she yelled at her secretary for more coffee? Man, we love everything you do, Peggy.
Sidenote: Nobody has seen fit to make a video or GIF of the moment from the Season 6 finale, when Peggy walked in wearing that teeny, tiny black dress with the pink bow. And Chanel No. 5. Obviously. This needs to be remedied as soon as possible.
Follow @Hollywood_com Follow @shannonmhouston