A New 'Biggest Loser' Is Revealed!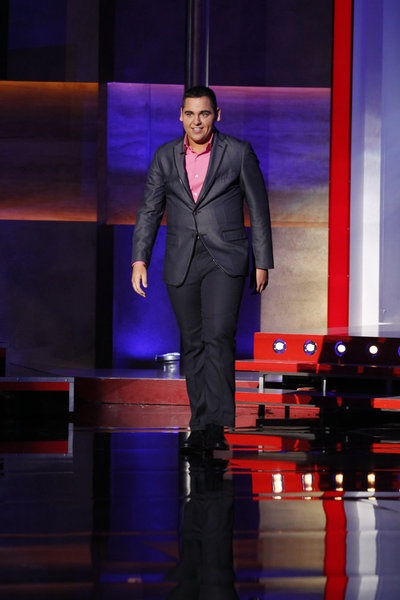 Bring out the giant scale: Last night, seven months after 20 morbidly obese contestants first weighed in, it was time to see the dramatic results on The Biggest Loser's 8,340,934th season finale. Sponsored by Jenny-O! Or was it Subway sandwiches? Either way, this is always the most instantly gratifying finale show on television, because you get to see a bunch of formerly unhealthy people become instantly sexy before your very eyes. It helps if they do so while you're eating an entire pizza. Also, Loser was only an hour long this time, because of The Voice. Thank you, The Voice
So, who took home the $250,000 grand prize? Unfortunately, it was not the extremely svelte and consistently hard-working Kim Nielsen, who weighed in at 134 for an overall loss of 118. But it also wasn't Spawn of Satan Conda Britt, who weighed in at 179 for an overall loss of 115. Disaster averted. Instead, it was Conda's teddy bear of a brother, 22-year-old Jeremy, who won the grand prize after shrinking down from 389 to 190 for a loss of 199. A remarkable feat, but it's tough to see a winner who has not yet achieved a healthy BMI. Let's hope he sticks to the plan and keeps losing.
Of course, there were 14 other contestants to weigh in, for a chance at the $100,000 at-home prize. Mark Cornelison, Buddy Smith, and Joe Messina did not weigh in, because they were big fat (no pun intended) quitters. Way to blow a phenomenal opportunity, guys. 41-year-old Mike Messina, someone we all forgot about because he was eliminated week 2, won the at-home prize by dropping a whopping 160 lbs (358 to 198) without the help of professional television trainers. Way to go, Mike! Equally impressive were beautiful BFFLs Cassandra Sturos and Emily Joy, who lost 92 (239 to 147) and 102 (264 to 162) respectively. 25-year-old Cassandra and 29-year old Emily will now start apartment hunting in New York City. Adorable. Have fun with the square footage, ladies.
34-year-old Ben Shuh went from 396 to 257 for a loss of 139, while 26-year-old Lauren Lee went from 246 to 157 for a loss of 89. She looked super fly. Or, as trainer Dolvett Quince said, "fierce." Lauren's mother, 57-year-old Gail, went from 322 to 235 for a loss of 87, but she still looked rather portly. The lady has a long way to go, but good for her regardless. Cassandra's grandmother, 63-year-old Nancy Rajala, went from 217 to 161 for a loss of 66. Not bad!
Brother and sister duo Adrian and Daphne Dortch, who were pretty obnoxious and awful on the ranch, dropped 108 and 88 respectively. 34-year-old Adrian went from 360 to 262, while 37-year-old Daphne went from 271 to 183. 48-year old Kimmy Stone went from 219 to 148 for a loss of 71, while her lazy 21-year-old spawn Megan went from 259 to 183 for a loss of 76. I think she lost, like, 2 lbs since she was eliminated months ago.
Finally, former Santa Claus Roy Pickler and his wife Chris lost 88 and 77 respectively. 63-year-old Roy shrank from 306 to 218, while 42-year-old Chris finally started looking her age when she went from 240 to 163. And last but not least, there was Chism Cornelison: His departure from the ranch was dramatic, but his overall weight loss was subpar. He went from 361 to 258, for an overall loss of 103.
So, did the right person win? I'm not so sure. Jeremy's 199 pound loss was certainly impressive, but Kim looks fit and healthy at a weight she can be proud of for the rest of her life. Jeremy can have his 250k — Kim will soak up the glory in her inevitable Biggest Loser modeling gigs.
Follow Shaunna on Twitter @HWShaunna
Image Credit: NBC