A 'Scrubs' Reunion Is Headed for 'Cougar Town'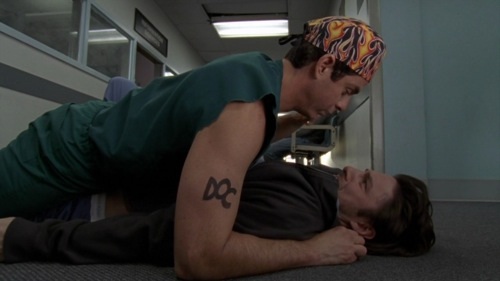 It's hardly out of the norm for Bill Lawrence to stick his old friends in his new shows. Back when Scrubs was still a welcome fixture in our weekly routine, actors from Lawrence's previous show, Spin City, would pop up fairly regularly. And in a very circle-of-lifey vein, we're about to see a handful of Scrubs cameos on Lawrence's Cougar Town. Specifically, Zach Braff, and Robert Maschio, who played The Todd. It was announced last month that Sarah Chalke would also be appearing on the show in a multi-episode arc as Bobby's (Brian Van Holt) girlfriend and Travis' (Dan Byrd) college professor.
We've already seen a couple of old friends from Sacred Heart Hospital make their way down to the shores of CT. Christa Miller is the most obvious example of this (she plays Ellie Torres on Cougar Town and played Jordan Sullivan on Scrubs). Ken Jenkins, who reigned surpreme as the tyrannical Dr. Kelso on Scrubs, has made a couple of appearances as Jules' (star Courteney Cox) father, Chick. Plus, Scott Foley — a frequent Scrubs recurrer as Elliot's (Chalke) handsome but socially awkward seal-training boyfriend Sean — enjoyed an arc back in Season 1 as Jules' love interest. As a matter of fact, Cox herself falls into this category, as she had a brief stint on Scrubs' eighth season as the temporary Chief of Medicine at Sacred Heart. But the Scrubsiest moment of the series occured when Sam Lloyd made a guest appearance on the show's Season 2 finale (an episode full of interesting guest appearances), playing his Scrubs character, the perpetually-defeated lawyer/musician, Ted Buckland. Both Jenkins and Lloyd are set to reprise their characters this coming season.
And now, Braff and Maschio will find themselves involved in some wine-addled Penny Canning. No word yet on what characters the former docs will play, but some of the more dedicated fans might consider Braff playing anyone other than himself to be a rift in the space-time continuum, thanks to Laurie's (Busy Philipps) Zach Braff iPhone app.
The best thing about this is the possibility of a total Scrubs reunion episode: as Chalke's role on the show will span several episodes, we might get to see her interract with newcomers Braff and Maschio, and returning players Jenkins and Lloyd. Is it too much to hope for that they'll all find themselves in the same scene? Possibly with Miller, and Jules' creepy neighbor Tom, whose portrayer Bob Clenendin had a small recurring role as the sexual deviant oncologist Paul Zeltzer on Scrubs?
This is quite an exciting development for Scrubs fans. It's enough to make you jump on your best friend's shoulders and shout "Eagle!"
Source: TVLine