A Singing Showdown: 'The Voice' Vs. 'The X Factor'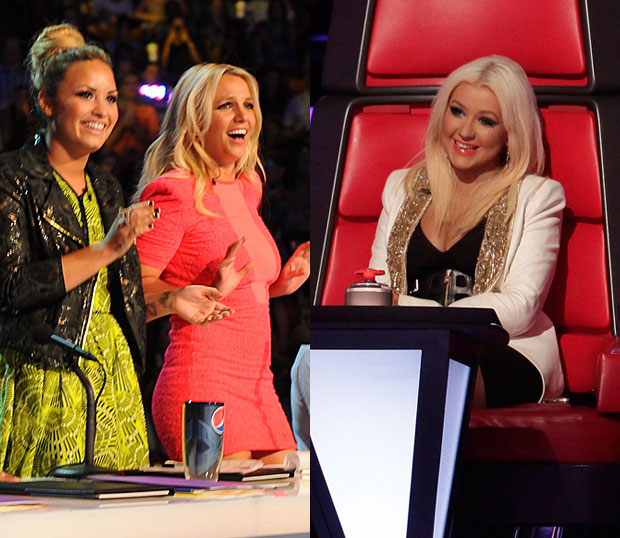 When America's favorite singing competitions go head-to-head in a Tuesday night battle royale, who really wins? Some may say the freedom of choice, but it's clear who it won't be—The X Factor or The Voice. Because of a sports-related snafu last week, The X Factor's parent network FOX had no choice but to move their broadcast to tonight, pitting against NBC's own singing juggernaut.
When it comes to guessing who will come out on top, the best way to gauge is in the ratings. For example, last fall's "live plus seven day" (live broadcast plus DVR recordings watched in the following seven days) numbers for Wednesday nights' The X Factor averaged 12.665 million viewers, overall with a 4.4 rating in the 18-49 demographic. On Thursday nights, The X Factor would average 12.571 million and a 4.2 rating in the same demographic.
As for The Voice, its Spring 2012 edition of the show averaged 15.859 million viewers overall with a 6.2 rating in adults 18-49. The results shows averaged 11.256 million viewers with a 4.3 rating in the aforementioned demographic.
Given that The Voice is having the more dynamite season, its ratings will trump The X Factor, though with the two airing on the same night, it will be interesting to see just how badly the ratings are affected.
Do you watch The Voice or The X Factor? Who do you think will trump the other in the ratings? Let us know in the comments!
[Photo Credit: FOX/NBC]
Follow Alicia on Twitter @alicialutes
More:
Fox Clarifies Tuesday Night Lineup, Includes 'X Factor'
'The Voice' Recap: Rosa-Biden 2012
'X Factor' To Hit Us (Baby) One More Time With a Third Season
From Our Partners:

Jessica Biel Shows Off Wedding Ring After Marrying Justin Timberlake in Italy — PHOTO
(Celebuzz)

Kristin Cavallari Doesn't Want to Plan a Wedding Right Now, Says She's Focusing on Motherhood for Now — EXCLUSIVE VIDEO
(Celebuzz)