A Sneak Peek Look At Miley Cyrus' Cameo On 'Two and a Half Men' — VIDEO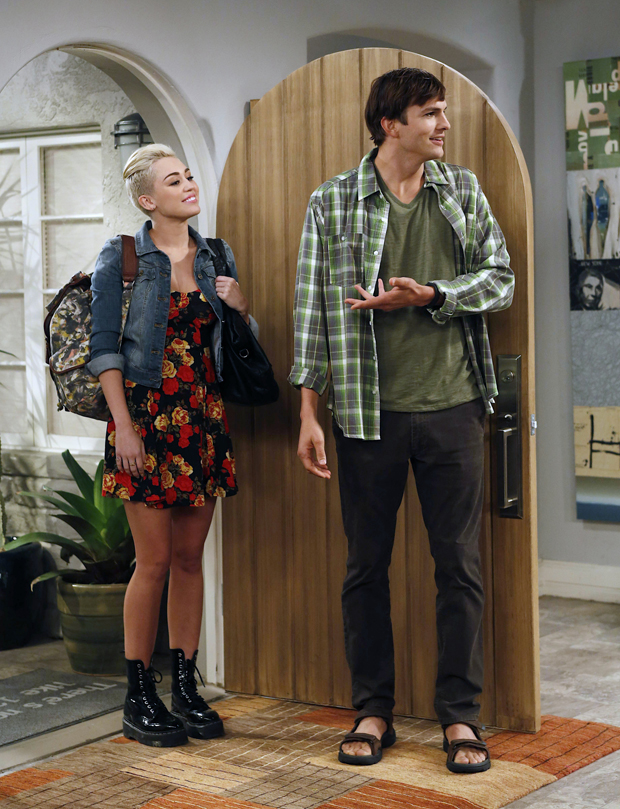 CBS has released a snippet of Miley Cyrus' upcoming appearance on Two and a Half Men and from the looks of things, the 19-year-old star is actually doing an imitation of Saturday Night Live's Vanessa Bayer's motormouthed imitation of Miley Cyrus. 
In the 30-second clip, Cyrus, who plays Missi — which, as she explains to a befuddled Alan (
Jon Cryer
) in the mile-a-minute way only a 19-year-old can, is short for Mississippi — the daughter of one of Walden's (
Ashton Kutcher
) friends who drops in for a visit and has a brief romance with Jake (
Angus T. Jones
). 
As any kid who grew up watching
Hannah Montana
(or parent who had to begrudgingly endure four very loud seasons) can attest, Cyrus can jabber like no other. Even Cyrus acknowledged she didn't exactly have to try method acting for her
Two and a Half Men
performance, as she joked to
Jay Leno
during a visit to
The Tonight Show
on Friday (where she wore an….
outfit
), "I play someone who can't shut up, [and] I had to do a lot of character building. I had to go deep on that."
Watch the sneak peek of her cameo on the sitcom below. Though, you may have to slow it down a few times to catch it of it. Check it out: 
Catch all that? Oh, and in case you missed it, Cyrus' two episode guest stint on Two and a Half Men begins this Thursday, October 17 at 8 PM ET on CBS. 
[Photo credit: CBS] 
More: Miley Cyrus Drops In On Ashton Kutcher On Two and a Half Men — PHOTOS