Did Aaron Paul Just Spoil Sunday's Episode of 'Breaking Bad'?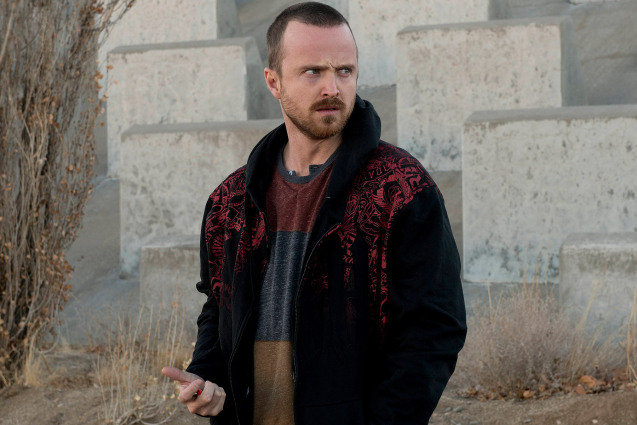 Ursula Coyote/Sony Pictures Television/AMC
It started as an innocent interview. There was talk of magnets, of catchphrases, of murder and meth. And then, things took a turn for the dark and heartbreaking. Breaking Bad's Aaron Paul sat down with Krista Smith of Vanity Fair to discuss his career-making role as Jesse Pinkman and how he feels about the series as it comes to a close. And he may have inadvertantly revealed a major spoiler of this coming Sunday's episode. 
If you're worried about that kind of thing, don't watch the below video and stop reading here. 
At around the three-minute mark, Paul and Smith begin discussing Paul's favorite use of the word "bitch" on the show. To which Paul replies, "Actually, I think my favorite 'bitch' is coming up. It's towards the end of this season, I think it's like the third to the last episode. You'll see, you'll know exactly what I'm talking about."
Let's pause for a second. The third to the last episode, "Ozymandias," hasn't aired it — it's the one fans will be treated to on Sunday, Sept. 15. And if you're up to date with the show, you know that last week's episode,"To'hajiilee," left Jesse in a precarious — to say the least — position. If we take what Paul says to be true, then it means that Jesse is talking in this coming Sunday's episode. Meaning, namely, that he is alive. Ah! 
Now, before we all go and place our heads between two industrial-sized magnets of opposite poles, let's think about this rationally. Paul and Smith did this interview weeks ago, when the new episodes of Breaking Bad were just beginning to air. And he filmed said episodes even longer ago than that. So it could very well be that Paul misremembered in which specific episode his favorite "bitch" actually transpired. It could be that the "bitch" in question, for example, occured during Jesse's histrionic car-ride phone call with Walt. Or, per chance, that Jesse utters one last, groaning "bitch" in the opening minutes of "Ozymandias" before finally meeting Jane in the ultimate New Zealand. Or, maybe Paul and Vanity Fair both just made a huge f**k-up and revealed part of the outcome of the shootout we saw at the end of "To'hajiilee."
But even if Jesse somehow survives a few more episodes (as many fans already believe he will), that doesn't guarantee he'll survive the series. Even Paul admits this much, telling Smith, "I just want him to walk away from it all, but I don't know if he can." Only three to go, kids!
More:
'Breaking Bad' Recap: To'hajilee
'Breaking Bad' Recap: Rabid Dog
'Breaking Bad' Recap: Confessions
 Follow @hollywood_com
| Follow @abbeystone
---
From Our Partners
From Our Partners:


A Complete History Of Twerking (1993-2013) (Vh1)


20 Grisliest TV Deaths of 2012-2013 (Vulture)