ABC Announces Fall 2013 Schedule: 'Marvel's Agents of S.H.I.E.L.D.' and Rebel Wilson Get Prime Times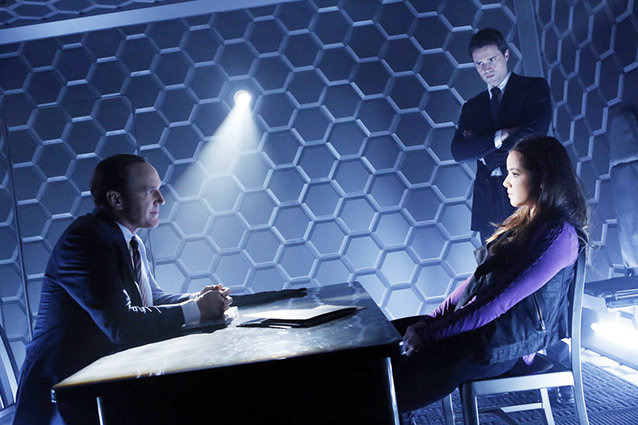 ABC is putting two highly anticipated spin-offs and Rebel Wilson front and center on their line-up this fall. The network announced their schedule for the fall 2013 season and Joss Whedon's Marvel's Agents Of S.H.I.E.L.D  is the big news, as it has bumped Dancing with the Stars from its Tuesday 8 PM slot. The reality series, which will now air on Mondays at 8 PM, has been renewed along with ABC's other reality series including Shark Tank, The Bachelor, The Taste, and America's Funniest Home Videos. 
But Marvel's Agents Of S.H.I.E.L.D  isn't the only thing shaking up the ABC lineup: Once Upon a Time spin-off Once Upon A Time In Wonderland  will try to work its magic at 8 PM on Thursdays and Rebel Wilson's new show Super Fun Night gets the cushy post-Modern Family spot at 9:30 PM on Wednesdays. (Of course, it's not a guaranteed home run. Case in point: Happy Endings). 
You can check out the entire schedule below, with new(*) and returning series. Oh, and Suburgatory fans don't freak out just yet: the family comedy is slated for a mid-season return while ABC takes newcomer Back in the Game for a spin at 8:30 on Wednesdays 
Monday
8 PM: Dancing with the Stars
10 PM: Castle
Tuesday
8 PM: Marvel's Agents of S.H.I.E.L.D*
9 PM: The G0ldbergs*
9:30 PM: Trophy Wife*
10 PM: Lucky 7*
Wednesday
8 PM: The Middle
8:30 PM: Back in the Game*
9 PM: Modern Family 
9:30 PM: Super Fun Night*
10 PM: Nashville
Thursday
8 PM: Once Upon a Time in Wonderland*
9 PM: Grey's Anatomy
10 PM: Scandal
Friday
8 PM: Last Man Standing
8:30 PM: The Neighbors
9 PM: Shark Tank
10 PM: 20/20
Saturday
8 PM: Saturday Night College Football
Sunday
7 PM: America's Funniest Home Videos
8 PM: Once Upon a Time
9 PM: Revenge
10 PM: Betrayal*
More: 
Fox Fall 2013-2014 Schedule: 'Dads', 'Almost Human', 'Sleepy Hollow', and More Sneak Peeks
NBC Announces Dates for Jimmy Fallon's 'Tonight Show' and Carrie Underwood's 'Sound of Music'  
'The Michael J. Fox Show,' 'Sean Saves the World,' 'Dracula' Trailers Debut
---
From Our Partners:


Zoe Saldana Strips Down For Magazine (Celebuzz)


33 Child Stars: Where Are They Now? (Celebuzz)