ABC Family's "25 Days of Christmas" Cage Match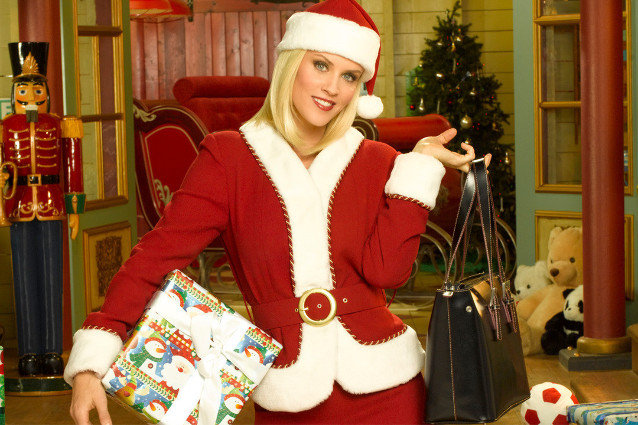 ABC Family
Nobody owns Christmas on TV like ABC Family owns Christmas on TV. In the few hours of its "25 Days of Christmas" schedule that "the Fam" isn't showing the entire Harry Potter canon, it's airing one of its reliably formulaic and comfortingly harmless original holiday movies. Since 2004, ABC Family has produced 19 of these pine-scented, feel-good films and stacked them with a mix of up-and-coming teen idols, '80s staples, and daytime TV hosts. So who owns December on cable? We did the math to find out.
A Four-Way Tie for #2: Tom Cavanagh, Jenny McCarthy, Christina Milian, and Ashley Williams
The affable and appropriately adorable  Tom Cavanagh and Ashley Williams earn their spots on this list for starring in Snow and its completely necessary sequel Snow 2: Brain Freeze. McCarthy also benefits from the follow-up trend with her lead roles in Santa Baby and Santa Baby 2, as the big guy's secret daughter. R&B star Milian branched out, however. In Snowglobe, she learns the true meaning of the holiday when she gets stuck inside a — well, you know.  Then the season gets a little dark in Christmas Cupid, when Milian plays a P.R. rep who has to play Ghost of Christmas Past for her recently deceased client. Yikes, ABC Fam.
#1: Mario Lopez
Erstwhile host and forever A.C. Slater, Lopez can also add "25 Days of Christmas" bragging rights to his resume. He has starred in an unprecendented three ABC original holiday movies. It all started when he teamed up with another '90s TV survivor for Holiday in Handcuffs. Melissa Joan Hart's character kidnaps him to spend a holiday with her judgmental family, but don't worry, they'll fall in love and no charges will be pressed. From there, he moved on to voice work, playing the titular pup in The Dog Who Saved Christmas and The Dog Who Saved Christmas Vacation. Congratulations, Mario! The Christmas cage match is yours.