ABC Family Ups Original Series Cred: Keeps 'Bunheads' & More, Cancels 'Jane by Design'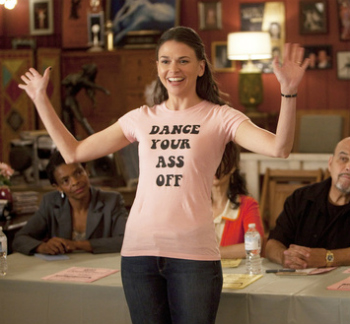 ABC Family may be known as the network where original series are so cheery and sugary sweet, they could give you a cavity by association (well, except for that Pretty Little Liars outlier), but when it comes to doubling down and trimming the fat, the cable network is all business. Over the weekend, ABC Family delivered some great news in the form of renewals for Bunheads, Baby Daddy, and Melissa & Joey, and sent Jane By Design into early retirement.
Say what you will about Baby Daddy and Melissa & Joey, but both series are providing a serious feather in ABC Family's cap. Both series are raking in the top cable numbers in their time slots within the network's prime demos, and Baby Daddy has actually shown growth since its premiere and provides a solid lead-in for the Melissa Joan Hart sitcom. 
Bunheads and Switched at Birth, however, aren't providing numbers as strong as the comedy hits. They are, however, bringing another very important element to the table: clout. Switched at Birth doesn't have quite the same following as the network's major hit, Pretty Little Liars, but it does have a significant fan base, which is why it was nominated for multiple Teen Choice Awards this year – a major boon for a soapy teen-centered drama. Bunheads hovers around a million viewers an episode, but is backed by the confidence of creator and producer Amy Sherman-Palladino (the TV genius behind Gilmore Girls), generally positive reactions from critics, and the star power of Broadway great Sutton Foster. It's the sort of programming that gives the network credit for having good programming while Baby Daddy and Melissa & Joey are bringing in the dough. 
That leaves the defunct Jane By Design. While there was nothing glaringly wrong with the series and its ratings were on par (and sometimes better) than Bunheads, it didn't have the buzz factor or acclaim factor that the dance-teacher drama does and its young heroine hasn't enraptured fans the way Switched at Birth manages to. 
It just goes to show that ABC Family is stepping up its original programming game. The network is building a formidable set of series tailored to their prime demos, and they're willing to make the tough calls when a series, like Jane By Design is hitting decent notes, but not the right ones. 
Do you follow any of ABC Family's recently renewed series? Will you miss Jane By Design?
[Photo Credit: ABC Family]