'Bachelorette' Season Finale: ABC Punks 'Bachelorette' Fans Everywhere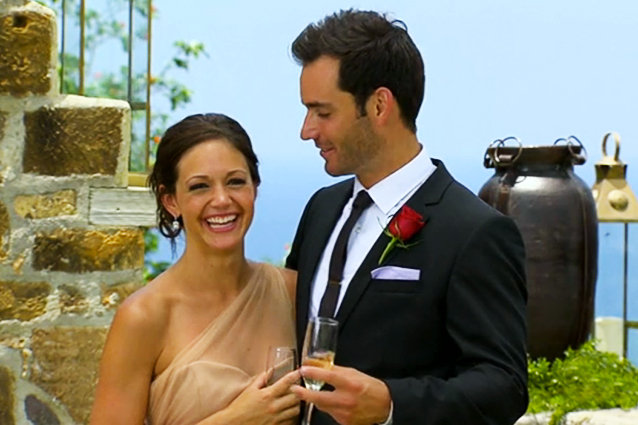 The only phrase that can encompass the overall ridiculousness of The Bachelorette finale last night is el, oh, el. No, really, the joke was entirely on us. Last week, after Brooks' interminably long break up and dramatic peacing out (seriously, there is less drama found at a college bar), we were absolutely convinced that he would come back. Besides the fact that Desiree admitted that she was so 'in love', the classic exit signs were not there, and the episodes were mixed up. If Brooks had really left for good, then why wasn't he on the 'Men Tell All' episode? Chris Harrison even entertained the possibility of a dramatic return. So why was Brooks no were to be found last night? One word, ratings. Kudos ABC, that was f**king brilliant. 
In my humble opinion, watching Desiree is as interesting as watching molasses move and she is as des-lusional and stage five as they come. However, the one interesting thing she did do was commit a Bachelorette cardinal sin and confess to Brooks that he had been the front runner all along, which ultimately took the suspense out of the entire show. If she had been a normal person okay with the situation, ABC would've been able to create the tension that they usually do when it comes down to the final two, and Brooks probably would've showed up on the 'Men Tell All' episode. However, ABC spotted this blessing in disguise and milked it for everything that it was worth. 
They created conflict where there was absolutely none to be found. Des got dumped and Brooks went running, hopping, skipping (whatever that metaphor was) in the complete opposite direction. End of story. If you think about it, there was less conflict in this final episode than any other in Bachelorette/Bachelor history, because there was only one singular contestant left for the last hour of the show. We ate it up. We, as suckers, watched the entire thing, because in our heads there was no shot in hell that ABC could let the finale end that way. And here lies the ingenious, they did let it end that way! I legitimately expected Brooks to ride in on a horse while Chris was proposing, and no, I do not mean that figuratively.  The twist was there was no twist and that is what shocked viewers. Des got engaged to the last man standing, Chris Siegfried. Yes, she really is that boring.
Another major factor that strung the audience along was Reality Steve's spoilers. For those who do not know, Reality Steve is an online reality tv blogger who has been spoiling outcomes of the Bachelor/Bachelorette franchise since season 13. He not only spoils the ending, but also episode by episode eliminations by utilizing mysterious sources. He has gained serious recognition and authority due to his accuracy. Even when he was wrong along the way in Ali Fedotowsky's season, he remedied the situation and changed his predictions long before the final episode. He predicted eons ago that Brooks and Des were engaged.  He firmly stood behind his sources even after Brooks left in a post on his website:"Hell, if Brooks DOESN'T come back next week, exactly how are they supposed to fill two hours of television? This is the first finale in probably 5 or 6 years that I'm actually looking forward to watching because frankly, I have no clue how they are going to get to their final destination. I just know what's at the end of the trail." This threw fans off everywhere, and made ABC's job that much easier. Reality Steve's conviction added to the notion of suspense without ABC having to do anything extra. He addressed being wrong after the finale in a tweet, "Wow. Uhhhh, didn't see that coming. No idea what happened. Just means ill have to get it right next season." Whatever, Steve. At least he got his question answered on how ABC filled up that two hour void.
So that wraps up another absurd season of the Bachelorette. Best of luck to Des and Chris and we absolutely cannot wait for the upcoming season of the Bachelor in 2014. Which raises another point, Reality Steve also predicted that Juan Pablo Galavis would never be the next Bachelor, I can't help feeling extremely triumphant for calling that one out from the start.
Follow Hollywood.Com On Twitter @Hollywood_Com | Follow Maité on Twitter @MaiteCubilette
More:
Juan Pablo Galavis as the Next 'Bachelor'? 
'The Bachelorette' Recap: The End is Upon Us
'The Bachelorette' Recap: Hometown Visits
---
From Our Partners


Stars Pose Naked for 'Allure' (Celebuzz)


20 Grisliest TV Deaths of 2012-2013 (Vulture)