ABC Removes 'Man Up' from Schedule, Replaces with 'Last Man Standing' and 'Work It'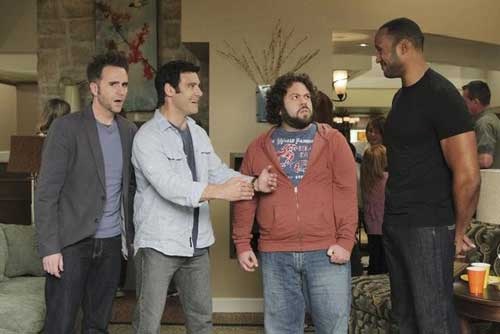 This season, ABC introduced a new sitcom called Man Up, focusing on a trio of friends (Mather Zickel, Dan Fogler, Christopher Moynihan) who attempt to reaffirm their masculinity on a weekly basis. News today is that ABC has removed Man Up from its schedule, and will be replacing the series with reruns of the more popular Tim Allen comedy, Last Man Standing…which is about one man attempting to reaffirm his masculinity on a weekly basis.
ABC has not released an official statement of cancelation, but Man Up doesn't seem to have much of a future on the network. Beginning Jan. 3, Man Up's timeslot (Tuesday nights at 8:30 p.m. ET/PT) will be filled by the network's new comedy Work It, which is about two men who dress in drag to get jobs in this "woman's world," and inadvertently begin to reaffirm their own femininity. There you go, ABC!
Source: AOLTV