Everything 'Revenge' Got Right This Season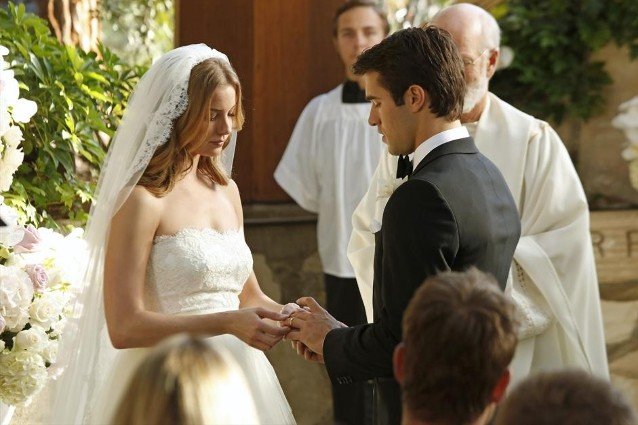 ABC
Many fans of the ABC drama Revenge started watching this season wondering if the show would return to its first season glory. The second season had been full of plenty of drama, but this resulted in an almost soap-like series of episodes.  Perhaps there was too much drama and not enough actua revenge-seeking; whatever it was, some changes were made and the third season  has been notedly improved. There's still that soap opera-y twinge to some of the storylines but for the most part, Revenge is back on track. Here's what's working in season three.
Nolan & Patrick
Emily and Aiden were pretty hot this season, but nothing really compared to the steamy make-out sessions between Victoria's long lost son Patrick and Nolan. First of all, it further confirmed that Nolan's sexuality is not easily defined (which is pretty cool), and that one episode where they practically destroyed Nolan's house with all their hanky pankery? Awesome.
Aiden And Emily Make It Official
If you watched Revenge last season there was a good chance you wanted Emily and Daniel to be together. Or Emily and Jack. Or Emily and Aiden. Literally all of the main male characters on the show were somehow linked to the lead, and it got a little old watching her do the Jack/Daniel/Aiden dance. This season she finally seemed committed to being with Aiden, whilst exacting revenge on the Graysons through her fake engagement to Daniel. Even though she was still, technically, dating two guys at once, her relationship to Aiden seemed more realistic. And when Aiden finally proposed, it felt right… although we all pretty much knew things weren't going to go so smoothly.
Victoria Grayson Didn't Change One Bit
Vicki was so shady this season, it was amazing. Now, none of us should have been surprised, but between hiring and firing Aiden, and trying like hell to break up Daniel and Emily, this may have been her shadiest season yet.
The Introduction of Margaux LeMarchal
Although we last the stunning Ashley Davenport (played by Ashley Madekwe), this season brought us Margaux. A Parisian beauty who initially seemed interested in Daniel, the Voulez editor went on to become a more interesting character. While Emily attempts to bring the Graysons down with fake engagements, pregnancies, and other trickery, Margaux is just looking for the real story behind Conrad Grayson's success. We're hoping she finds a way to expose the Graysons when seaspn 3 returns (as Emily's plans tend to get a little complicated).
The Return Of Daniel's Ex
Some of us would have been feeling pretty bad for Daniel, since Emily spent the whole season lying to him and "cheating" with her real lover Aiden. But then Sarah, Daniel's ex, came back into the picture and offered a welcome complication to the storyline. Watching Daniel fall back in love with her– only to choose Emily in the end because of her phony pregnancy (phony pregnancies work every time)– made for great TV. And now that he knows the truth about Emily, things should get really interesting. Throw in the fact that he actually shot Emily in the winter finale, and we've got plenty to look forward to when the series picks back up in January.