ABC's 'Day of Giving' Raises $16.8 Million for Hurricane Sandy Victims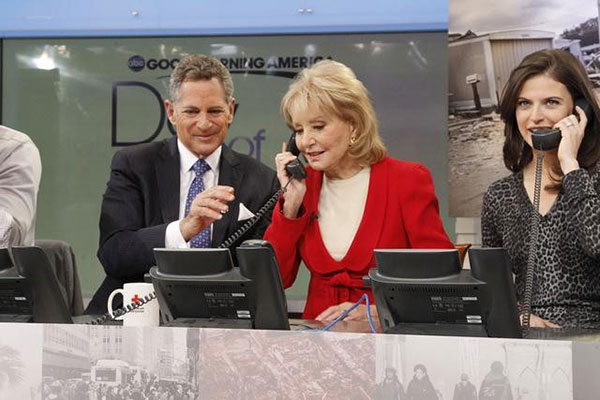 Following NBC's Friday-night telethon, Hurricane Sandy: Coming Together, ABC yesterday broadcast a day-long programming block through daytime, primetime, and late night, including their news broadcasts, to raise funds for the American Red Cross. Now the numbers are in and we know that the "Day of Giving" netted $16.8 million to aid those affected by the storm. Though impressive, that is well less than NBC's $23 million raised from the telethon that broadcast across their ecosystem of networks, including USA, Bravo, and Syfy.
Still, the Alphabet gave it a noble effort, working in fundraising to their broadcasts of Good Morning America, Live! With Kelly & Michael, The View, The Chew, Katie, World News With Diane Sawyer, Dancing With the Stars, Nightline, and Jimmy Kimmel Live! Kelly Ripa and Michael Strahan turned Live!'s beloved annual Halloween special into an opportunity to raise money for the victims, and even several of the dancers on Dancing With the Stars shared how they were affected by Hurricane Sandy, with pro Valentin Chmerkovskiy adding an especially moving account about how his childhood neighborhood in New York City had suffered.
Anne Sweeney, president of Disney/ABC Television Group, said in a statement, "Our 'Day of Giving' was an enormous success, raising more than $16.8 million dollars to help those impacted by Hurricane Sandy. From Good Morning America, The View and our Owned TV Stations to Jimmy Kimmel Live!, ABC Family, and Radio Disney, the Disney/ABC TV Group came together in an unprecedented fashion to address the storm's devastation, and I could not be more proud." The money raised from the "Day of Giving" comes after The Walt Disney Company pledged $2 million to the relief efforts.
Did you watch? For more information on how you can help those affected check out the American Red Cross's hurricane relief website.
[Photo Credit: ABC]
More:
'Jersey Shore' Cast Plan 'Restore the Shore' Hurricane Sandy Special for MTV
Bruce Springsteen, Christina Aguilera, Jon Stewart Shine on NBC's Hurricane Telethon
Win or Lose, Obama Warms Hearts, Connects Bruce Springsteen and Chris Christie

Channing Tatum to Be Named Sexiest Man Alive by 'People' (REPORT)
(Celebuzz)