ABC's Celebrity Diving Show 'Splash' Is a Surprising Ratings Hit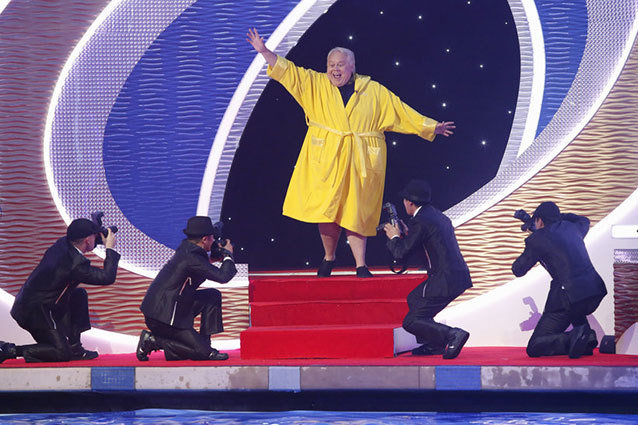 When most people heard that ABC was airing Splash!, a celebrity diving competition (modeled after one in the UK hosted by Olympic sensation Tom Daley), there was a collective eyeroll and a shrug that the thing would be gone after an episode or two. Wrong! It was actually a ratings hit for ABC. Cue the millions of "ABC makes a Splash" headlines. 
RELATED: 'Splash' On ABC Looks a Bit Different from the 'Splash' I Remember
8.8 million viewers watched last night's premiere and it did a 2.6 rating in the 18-to-49 demographic that advertisers crave like contestant Louie Anderson craves not doing another belly flop (and probably a cheeseburger when he gets out of the pool). That's enough to beat every show but the unstoppable NCIS that aired at the same time and enough to make it the biggest network reality premiere since the heavily-hypped The X Factor bow two years ago. Just a few months ago, Fox aired it's own answer to the celebrity diving show, but only 3.4 million people were lobotomized by Celebrities in Danger: The High Dive. 
RELATED: 'Splash' Will Attempt to Make Waves
Yes, sadly that means that we are not only stuck with the rest of this season, but probably a Season 2 as well. You did this to yourself America. If you want to dive into the show (even I can't resist) the first episode is below. 
Follow Brian Moylan on Twitter @BrianJMoylan
[Photo Credit: Kelsey McNeal/ABC]
---
You Might Also Like:


Topanga's Revealing Lingerie Shoot: Hello '90s!


25 Stars Before They Were Famous