Adam Pally is the Best Addition to 'The Mindy Project'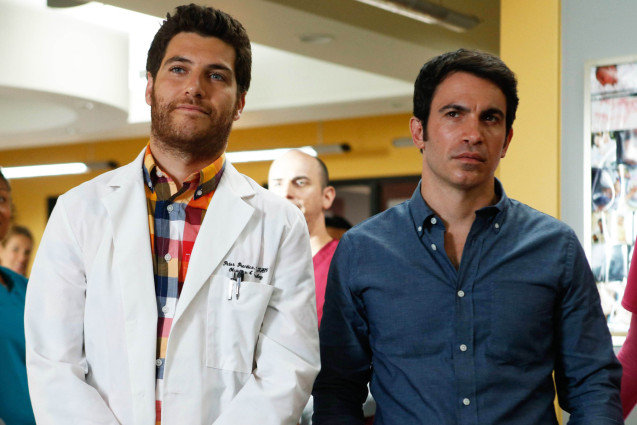 FOX
Although fans of Happy Endings were sad to see the show cancelled by ABC this past spring, one of the stars, Adam Pally, has landed a new gig as Doctor Peter Prentice on Fox's The Mindy Project. (Although unfortunately, now The Mindy Project itself is being put on hiatus until Brooklyn 9-9 finishes its freshman season in Mindy's former timeslot.) Peter was hired at Mindy's practice to replace Paul Leotard (guest star James Franco) who was brought on to replace Mindy when she went to Haiti at the end of season one; whew, that was complicated. Now, Peter is a permanent fixture at the doctor's office and we couldn't be happier.
Since joining the cast early in the show's second season, Pally has brought a new kind of raunchy, frat-boy humor to The Mindy Project, which the show was sorely lacking. Recently, Peter convinced Morgan, a nurse at the practice, to sext one of Mindy's love interests on her behalf when they found her phone. Pally had one of the best lines of the whole episode — maybe the whole season — when he said, "If a girl doesn't respond to me immediately, she's either stuck-up, dead, or living in an elevator, all three of which are deal breakers."
Even for those of us who were huge fans of The Mindy Project before Pally joined the cast, he has quickly become one of our favorite characters — surpassing Betsy and Beverly, who haven't been around much this year. Dare we say it: he might even be funnier than Jeremy (and maybe even more charming since Jeremy has been going through some stuff recently.) Pally is certainly our favorite new character this season and we're happy he's going to stick around.