'The Bachelor' Wants You, Adam Scott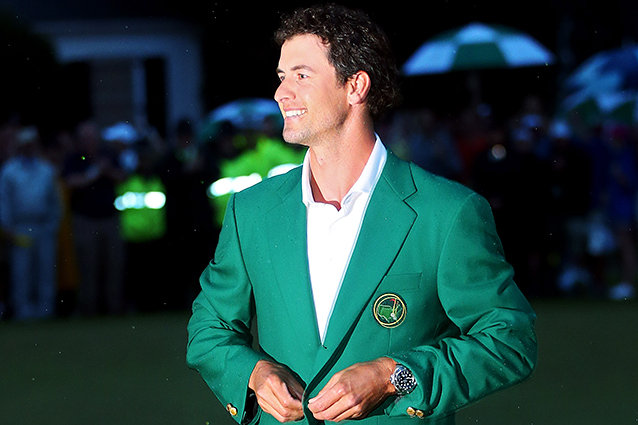 Could Adam Scott (no, not that one) be The Bachelor's newest ace in the hole? If Chris Harrison and producer Robert Mills have any say in it he might. The recently-crowned King of the Holes — isn't that what they call golf champions? — beat out Tiger Woods for the green jacket of Masters glory, and also the hearts of American women everywhere when it was revealed that the Australian may in fact be single. Single, wealthy, and handsome?! Someone get this man a reality show, stat!
Well, that's exactly what Mills is hoping, especially after the response he received to his tweet about the idea. The Bachelor Nation has spoken (yes, sorry, that is a thing), and they want you, Adam Scott. If you'll have them!
So……Adam Scott as the next #Bachelor??What say you, #Bachelornation?

— Robert Mills(@Millsy11374) April 14, 2013
From there, the idea took off, with Harrison adding fuel to the fire  — and possibly holding out hope that he'd one day get to play a couple holes in Augusta with the pro, no doubt — in typical Bachelor fashion, only to be one-upped by Mills' nice little jab at former Bachelor wannabe/Jeah-enthusiast, Ryan Lochte:
Rumors this will be settled in a hot tub instead of replaying 18th #Masters

— Chris Harrison (@chrisbharrison) April 14, 2013
The Adam Scott as #Bachelor idea has exploded. Will try and meet. And Ryan Lochte-this is what it means to have interest in you as #Bachelor

— Robert Mills(@Millsy11374) April 15, 2013
It's all still just a big ole hypothetical at the moment, but this wouldn't be the first time The Bachelor sourced outside of its incestual pool of contestants for a potential suitor: Byron Velvick (a pro-bass fisherman) and Charlie O'Connell (actor) were both plucked from the pseudo-celebrity world to participate in the televised wooing competition. Hollywood.com has reached out for comment from ABC, but had yet to hear back at the time of publication.
What do you think of the prospect of Adam Scott as the next Bachelor: hole in one or a total bogey? Let us know in the comments!
Follow @AliciaLutes on Twitter
More:
Are You 'Ready for Love'? You Shouldn't Be
8 Things 'Bachelorette' Desiree Can Learn from The Past
Love By Numbers: The Big 'Bachelor' Break-Up Barometer
---
From Our Partners


Jessica Alba Bikinis in St. Barts (Celebuzz)


Which Game of Thrones Actor Looks Least Like His On-Screen Character? (Vulture)