Mike Tyson Gets Animated with New Adult Swim Cartoon Series, and Dan Harmon Returns to TV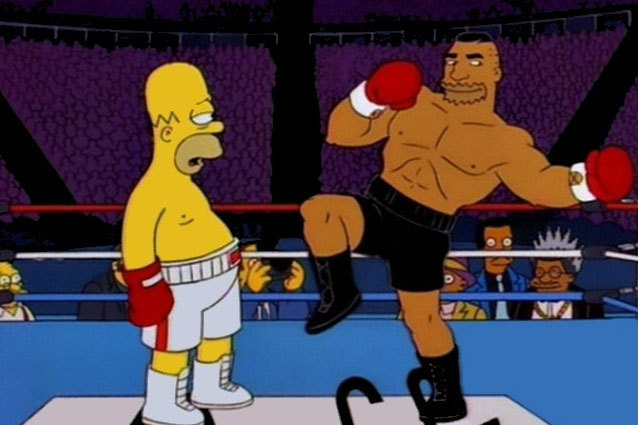 Look out everyone! Iron Mike is shortly going to become Ink-and-Paint Mike. Former boxer and notorious ear-biter Mike Tyson is getting his own quarter-hour cartoon series, developed by Warner Bros. Animation, in which, voicing an animated alter ego of himself, he'll take to the streets to fight crime and solve mysteries.
We're not kidding: Mike Tyson Mysteries was announced at the Adult Swim upfront as a series to launch this fall. I mean, crazier things have happened than the idea of Mike Tyson fighting crime. Steven Seagal actually became a lawman. And Tyson has already been animated via Homer's boxing nemesis Drederick Tatum on The Simpsons.
Tyson's infamous face tattoo is supposedly "magic" in the cartoon, but whether that means it's some kind of cranial hyperlink, a Cyclops-style ray-blaster, or the ink embodiment of his conscience is unclear. We also know that Tyson's animated avatar will have a talking pigeon sidekick that Adult Swim describes as "fowl-mouthed." Imagine the illegitimate offspring of Ted and Iago from Aladdin and you've probably got that pigeon pegged.
But Mike Tyson Mysteries isn't all that came out of the Adult Swim upfront. Dan Harmon's first post-Community TV project is getting a home there this fall. His half-hour animated series Rick and Morty is about a genius inventor and his relationship with his less-than-Mensa-worthy grandson. Boondocks creator Aaron McGruder also has two pilots in the works. Hot Package, a Canadian entertainment show designed as a parody of spray-tanned, teeth-bleached entertainment shows like Extra and Entertainment Tonight sounds pretty hilarious. Plus,  Bryan Cranston and Seth Green are exec-producing a new show co-created by Robot Chicken's Matthew Senreich called Übermansion, about the mundane lives of six superheroes living together in a mansion, Jersey Shore-style.
Will you be tuning in to any of these this fall? 
Follow Christian Blauvelt on Twitter @Ctblauvelt
More:
The Notorious B.I.G.'s Ghost Will 'Hypnotize' You in New Cartoon Series
Cee Lo Green is Getting His Own Reality Show 
Stephen Colbert Kicks Off His Book Club 
---
From Our Partners:


What Happened to 33 Child Stars (Celebuzz)


40 Most Revealing See-Through Red Carpet Looks (Vh1)