'Agents of S.H.I.E.L.D.': First Full Trailer Shows Not All Heroes Are Super — VIDEO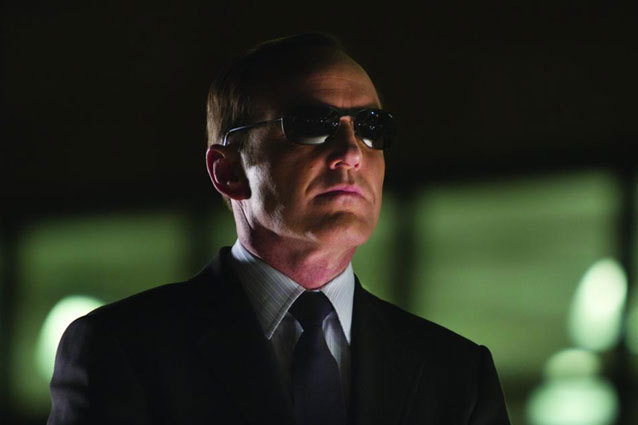 Marvel is making the jump to the small screen in a big way with this fall's Agents of S.H.I.E.L.D. on ABC, exec produced by Joss Whedon. Lest you think this is just going to focus on stoic secret-service dudes in dark suits and darker sunglasses, the Alphabet makes it clear in the just-released full-length trailer for the show that they're planning this as a full-fledged Avengers tie-in, with maybe a superhero cameo or two every now and then. The first few seconds of the clip show The Hulk, Captain America's shield, Thor's hammer, and a flying Iron Man. So yeah, it's gonna be epic, even if those tiny cameos are all that we actually do see of the supes. (But, don't expect Robert Downey Jr. to suddenly show up.) Check out the trailer.
Every bit as exciting to me as the movie shout-outs is the proliferation of Whedonisms we see, or rather hear, in the trailer. Especially that moment when an agent begins an interrogation of a suspect and says, "There are two ways to do this." The suspect says, "Oh, is one of them 'the easy way'?" "…No…" That could be straight out of Buffy. Plus, it's got the always-great Clark Gregg. Coulson lives! As Whedon put it at the ABC upfront presentation on Tuesday, "Clark Gregg is an actor so talented, even I couldn't kill him."
Will you be watching in the fall?
Follow Christian Blauvelt on Twitter @Ctblauvelt
More:
ABC Announces Fall 2013 Schedule: 'Marvel's Agents of S.H.I.E.L.D' Gets a Prime Time 
Coulson Lives! Marvel's 'Agents of S.H.I.E.L.D.' Teased in 2 New Clips
'Avengers 2' Negotiations Sound Like Hollywood 'Hunger Games'
---
From Our Partners:


Zoe Saldana Strips Down For Magazine (Celebuzz)


33 Child Stars: Where Are They Now? (Celebuzz)