'Agents of S.H.I.E.L.D.' Recap: Mike Peterson Returns!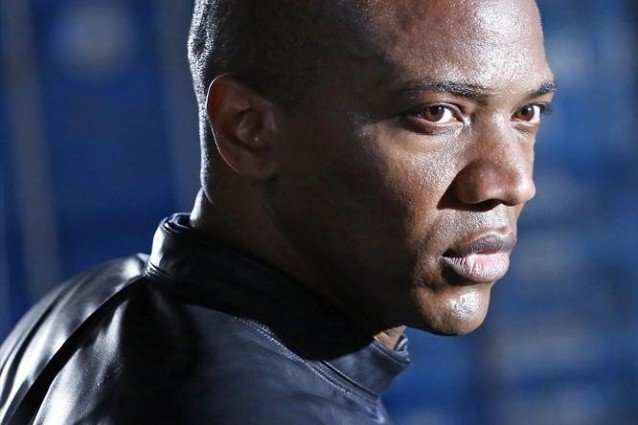 ABC
Mission Briefing
This week on Agents of S.H.I.E.L.D., the terrorist organization Centipede pops its furry little legs into the mix once again. Three of its Extremis powered muscleheads break into a high security prison to extract an inmate named Edison Po, a former marine and tactical expert that can help Centipede go up against S.H.I.E.L.D. The S.H.I.E.L.D. gang decides to fight fire with fire by enlisting Mike Peterson (guest star J. August Richards) in his first appearance since the show's pilot.
The Agents
Guest agent Mike Peterson gets the spotlight this time. Since his near-explosive stand off with the team in the premiere, Mike has been spending his time pushing bulldozers across football fields under S.H.I.E.L.D's watch. Coulson recruits an eager Peterson for his first special ops mission, but he'll have to take on three other Extremis powered foes without much help from the other, more fragile members of the team.
Mission Fallout
The team tracks down Centipede to an abandoned shipping warehouse and the two sides do battle. Peterson proves his usefulness by holding his own against the three soldiers, even though he's outnumbered, but is wounded when one of the enemies stabs him in the side with a nasty piece jagged metal. S.H.I.E.L.D. is able to take down one of the soldiers, but the man is killed remotely by the same cybernetic eye device that the organization has used previously to dispatch its cornered agents. A wounded Peterson calls his son, but discovers that he has been kidnaped by Centipede. Centipede wants to trade Peterson for his son's safety, and S.H.I.E.L.D. sets up the trade, realizing there's nothing they can do. During the fateful trade, Centipede reveals that they really want Coulson, and that Peterson was in on the gambit. Coulson gives himself up for the boy's safety and Centipede whisks him away in a helicopter while the rest of the team can only stand back and watch. Peterson tries to save Coulson, but is presumably killed after Centipede lets off an explosion that rips through the night (though there is no body shown, which means, by comic book rules, that Peterson will most likely show up again at some point in the future). While flying to safety, Centipede reveals to Coulson that they are looking for the same answers that he himself has been searching for all season: How did he come back from the dead?
Mission Highlights and Lowlights
— Can this be the very last "He's standing right behind me, isn't he?" scene in anything forever? Pretty please?
— What kind of shoe string budget are S.H.I.E.L.D. missions running on that they can't be bothered to send more forces after three soldiers juiced up with Extremis? I guess the economy has hit everyone pretty hard. Even the massive clandestine government security organizations need to pinch their pennies.
— The scene with Peterson getting measured for his super suit by Fitz/Simmons was cringeworthy for all the wrong reasons.