We're Not Sure How to Feel About Ward/May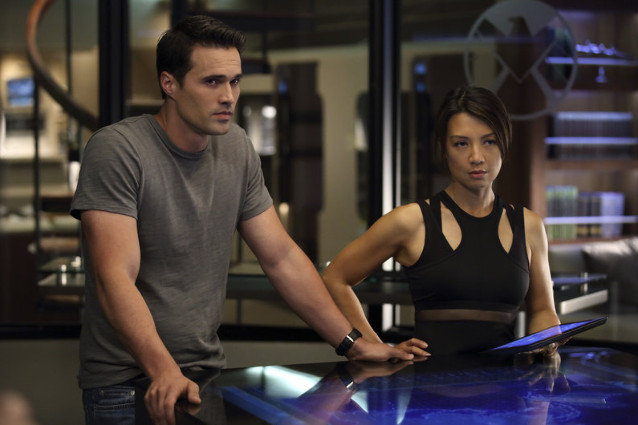 ABC
Well, that came out of nowhere.
After the show seemed to put every ship but this one in motion, the first adult fun-times between any of our Agents of S.H.I.E.L.D. happened between Ward (Brett Dalton) and May (Ming-Na Wen). At the end of eighth episode, "The Well," May literally left the door open for her actual Ken-doll colleague to find out just what "The Calvary" really means. So what of Skye, whose contentious (in that manufactured, "sexy" way) rapport with Ward S.H.I.E.L.D. has been doling out with a heavy hand? Or Coulson, for that matter. Did all of the puns and May's saucy eyebrow-raising in pretty much every private conversation those two have ever had mean nothing?
May and Ward hardly speak to each other, though episode nine would have us believe that — even before, during, and after their recreational activities — they still don't. But they both wear their professionalism like armor and are the least likely couple in that big, black plane to let their relationship or hook-up or whatever it is get in the way of whatever cockamamie mission they have that week.
Ward/May is actually quite grown-up for S.H.I.E.L.D. It's hard out there for a Level Seven Agent, and who would begrudge the people who secretly protect our very planet a stress-relieving roll in the hay or two?
What do you think of this ship, readers? Let us know in the comments!