Al Jazeera Buys Al Gore's Current TV, Fox News' Wildest Dreams Come True?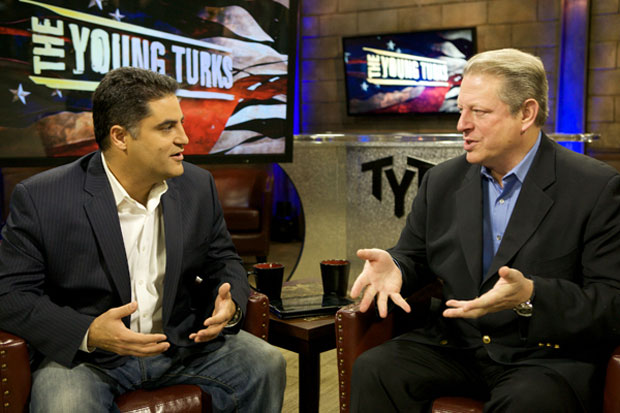 The Current TV Era is over. But considering how few people ever watched the left-leaning cable network co-founded by Al Gore in 2005, one could argue that era never began.
On Jan. 2, the former Vice President and his business partners completed the sale of the channel to another Al. That is, Al Jazeera, the Qatar-based multimedia empire that's become the Middle East's leading journalistic powerhouse, though it's been repeatedly criticized—some would say even blacklisted—in the United States. The reason for that is primarily due to how Al Jazeera would broadcast videos it received from Al Qaeda and its sympathizers in the years after 9/11. That led some to brand the channel a "terrorist network," according to Philip Seib, author of The Al Jazeera Effect. Despite praise from many others for its perceived journalistic rigor in covering Middle East issues, including members of the White House who used it as a key news source during the Arab Spring of 2011, it's never been able to shake that label, resulting in even its English-language version, Al Jazeera English, being unavailable on any cable provider in the U.S. except in New York and Washington. After news of the Al Jazeera takeover broke late yesterday, Time Warner announced plans to remove Current TV from its lineup immediately.
Current TV has struggled for all of its seven-year run. After Gore and co-founder Joel Hyatt abandoned their initial concept of the channel featuring largely user-generated content, from videos and documentaries submitted via its audience to their website, they tried to rebrand it as an alternative for liberals to MSNBC. Most notably, they even hired hotheaded MSNBC alum Keith Olbermann to relaunch his bully pulpit Countdown in February 2011, only for them to fire him in March 2012 after behind the scenes conflict. Olbermann painted a picture of Current TV to David Letterman that made it seem like a network held together with glue and popsicle sticks, with on-set power outages routine. Since his departure, Current has continued to employ liberal pundits like former New York governor Eliot Spitzer and former Michigan governor Jennifer Granholm. But Nielsen was never kind, and one evening's lineup in 2012 drew only 42,000 viewers for the night. In fact, Time Warner had threatened to pull Current from its lineup even before the Al Jazeera takeover. The New York Times reports that it's selling for $500 million, which means Gore himself, who has a 20% share in the network, should net $100 million.
For Al Jazeera, however, the Current TV takeover represents a second chance to break into the U.S. market. Though Al Jazeera English has bureaus in New York, Washington, Los Angeles, Miami, and Chicago, it's never been able to get a broadcasting foothold in the U.S. due to lack of interest from cable providers, despite its Stateside popularity as a live-streaming service. In fact, the network said in a press release Wednesday that 40% of the live-streaming audience for Al Jazeera English resides in the U.S. With the acquisition of Current TV, however, they could potentially reach 40 million new American homes. It's expected that they'll launch a new network, an Al Jazeera America that'll build on lessons learned from the mistakes of Al Jazeera English.
Still, it's hard not to imagine better chum for the Fox News crowd: a liberal former VP making millions off selling his pundit-focused cabler to a "terrorist network.' FoxNews.com was quick to mention that Al Jazeera "has been accused of working with Al Qaeda" and that one of its journalists was arrested in Israel in 2011 because of suspected ties to Hamas, in addition to using puns related to the sale like "It's Emir-acle!"
Follow Christian Blauvelt on Twitter @Ctblauvelt
[Photo Credit: Current TV]
More:
Keith Olbermann Fired by Current TV, Replaced by Eliot Spitzer
Keith Olbermann on his Current TV Firing: 'I Screwed Up Really Big'

'Les Mis': Who's Who of the Cast — PICS