Al Pacino Talks Taking on the Role of 'Phil Spector'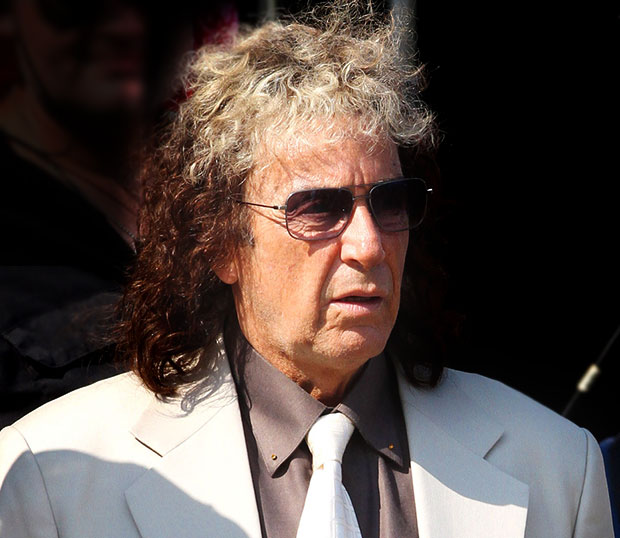 Al Pacino didn't intentionally do much research for his part as convicted murderer/legendary music producer Phil Spector in the upcoming HBO movie Phil Spector — people just reached out to him organically.
"I've talked to people about Phil who offered. I didn't particularly seek out who he was," Pacino tells reporters at the Television Critics Association winter press tour.
The movie, written by David Mamet, follows Spector during his trial for the shooting death of actress Lana Clarkson — so Pacino didn't want to talk to Spector in prison (he's currently serving a 19 years to life sentence in California). The two men have actually met in person, but Pacino doesn't remember.
"On the Internet there's a picture of me and Phil about 20 years ago. We're standing next to each other and somebody's taking our picture and we're both looking into the lens of the camera — I didn't even know him. I don't remember."
Much of the movie focuses on Linda Kenney Baden, played by Helen Mirren. The role was originally played by Bette Midler, who had to withdraw from the project after a serious back injury. "She couldn't move — she had to be carried off of the set," says Mamet of Midler's exit two weeks into filming. "I thought Bette was terrific."
Mirren points out that although she and Midler are quite different, they do share a similar characteristic: "We're both blonde," she cracks.
The real-life Baden consulted on the movie. For what it's worth, she says she doesn't think Spector should have been convicted. "As a lawyer you don't care about the person, you care about the facts," she explains. "I thought the forensic evidence did not prove that he committed this crime."
Phil Spector is scheduled to air in Spring 2013 on HBO.
Follow Jean on Twitter @hijean
[PHOTO CREDIT: Pacific Coast News]
MORE:
Al Pacino To Play Joe Paterno in Upcoming Biopic. Who Should Play Sandusky?
Stand Up Guys': How Would Al Pacino Spend His Last Day on Earth? — TRAILER