Alec Baldwin Slams 'Today Show,' Says He's Leaving NBC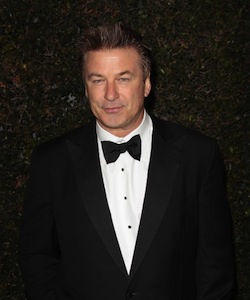 According to Alec Baldwin, the only difference between a stalker and a news crew is a microphone and a camera. Earlier this week Canadian actress Genevieve Sabourin was arrested outside Baldwin's home in the Hamptons for allegedly stalking him. However, it was the Today Show coverage of the story that really set Baldwin off. The actor lashed out at the morning news show in a series of Tweets, then suggested once again that he's leaving 30 Rock.
The newly-engaged actor wrote:
"I haven't appeared on the Today Show in many years. But did they have to camp outside my apt?"
"Outside my apt today along side the other stalkers from the tabloid press, a crew that identified themselves as being with the Today Show"
"A story about stalking sure brings out the stalkers in the media. But, the Today Show?"
"The television crew camped outside my apt said they were with the Today Show. #howthemightyhavefallen"
"This just in: Andrea Peyser is joining the cast of the Today Show."
"No one from NBC contacted me until the Today Show arrived at my apt."
Then Baldwin added one more quip, just to send everyone into a tizzy about the future of 30 Rock: "I think I'm leaving NBC just in time." There's reason to doubt Baldwin, since he's been threatening to leave 30 Rock for years. In July 2010 he told CNN that he'd leave the show when his contract expired in 2012, explaining, "I would rather go do other things and have whatever amount of time I have left in my life, have more of a normal life… I want to find out if it's possible. How close can I get." Then last summer, he suggested that he'd leave after the show's sixth season. He publicly apologized to the cast and crew in a Huffington Post editorial, closing, "Here's to five more seasons."
Yet, Baldwin may be serious this time. Though NBC Entertainment Executive Robert Greenblatt said in January that if 30 Rock gets a seventh season Baldwin will be back, NBC has yet to announced that it's picking up the show. So, either Baldwin is leaving the 30 Rock, this is the final season, or he's just blowing off steam again. Just to be safe, we recommend soaking in all the Donaghy goodness while you can.
[@AlecBaldwin, Huffington Post]
More:
Alec Baldwin Is Engaged to a 28-Year-Old Yoga Teacher
'30 Rock' Recap: We Found Hornberger in a Hopeless Place