Alec Baldwin Will Return to '30 Rock' If It Gets a 7th Season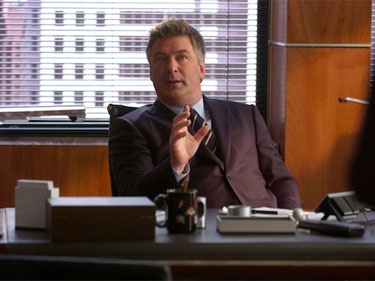 For quite a while, we've been hearing news about the possible departure of Alec Baldwin from the NBC series 30 Rock. With its sixth season set to premiere next week, there has been much speculation about whether or not we'd be saying goodbye to Jack Donaghy this coming May. But rest assured: NBC Entertainment Executive Robert Greenblatt has confirmed (he's just full of good news today) that if 30 Rock does continue on with a seventh season, Baldwin will remain on the show.
We recall that whole ordeal last spring wherein Baldwin wrongfully claimed the show would be coming to and end (followed by an apology from the actor to his series and network). More recently, Executive Producer Lorne Michaels stated that the show would power on for future seasons, even in the absence of Baldwin. Baldwin provoked further ambiguity on the issue back in October, when he declared his wishes to move on, but cited his loyalty to the show as a possible motivation to stay on, at least for "a piece of the year" of next season.
And we can rest easy. To say that Jack Donaghy is an integral part of 30 Rock would be a laughable understatement. His relationship with star Tina Fey's Liz Lemon is the life blood of the series, and has been since Season One. Although we're not expecting any long-subdued romantic passions to surface, we fans of 30 Rock appreciate the strong, sentimental and hilarious friendship that Liz and Jack have built over the years. It wouldn't be the same 30 Rock without Jack, and here's hoping that the fast-paced comedic wonder will fire on with more blergs, Cheesy Blasters, episodes of Gold Case and mysterious revelations about Kenneth's age. 
Source: Twitter