Alexis Bellino Leaves 'Real Housewives of OC,' Let's Rejoice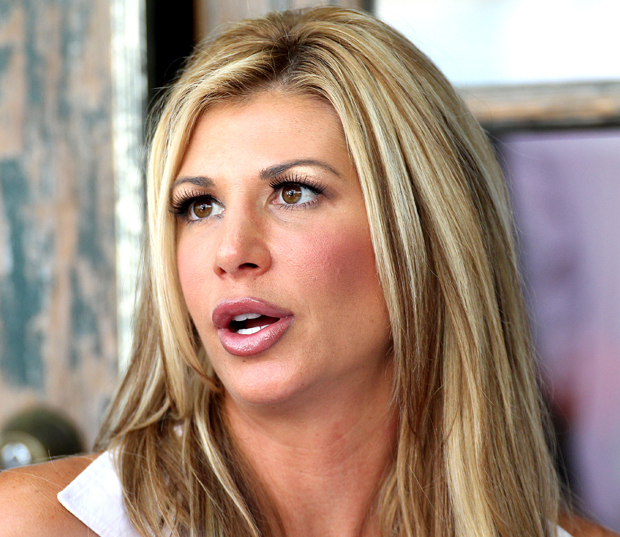 I have wished that Alexis Bellino one of the top-heavy blondes from Real Housewives of Orange County would be wiped off the face of the Earth, or at least my television, many times. But now that she's gone, I'm going to kind of miss her.
This Bible-beating beauty queen tells People that she's leaving the show for good and wont be back next season. "After three seasons of appearing on The Real Housewives of Orange County, I have made the difficult decision not to return for season 8," she tells the magazine. "Although Bravo made me a very generous offer and I'm thankful to have had this experience, I will be leaving the show behind to focus on my family and other opportunities."
Well, that sounds great. Her other opportunities, of course include her dress line Alexis Couture (which happens to share a name with a plus-sized porn model), her hosting gig on Fox 5 in San Diego where she gets the names of her guests wrong and stammers on camera, and her husband's trampoline park. I always loved Alexis because she was completely delusional. She thought she had so much money and everyone cared about her and that they were all so jealous of her. That was never the case. There were more and more uncomfortable scenes as she never fit in with any of the other women on the show and her husband controlled her in ways that seemed silly and oppressive to anyone who doesn't still think Eisenhower is president. She was often portrayed as extreme in her religious views, lacking in financial solvency, and barely comprehending any argument she got into.
Of course, this made for great television, but it was frustrating watching a person with the IQ of a tempeh scramble from a vegan breakfast bar try to talk about the finer points of materialism on national television. So long, Alexis. May you and your Juggs find success and a million new Bentleys in your dark future of obscurity.
Follow Brian Moylan on Twitter @BrianJMoylan
[Photo Credit: Brian Lindensmith / Splash News]
More:
Jill Zarin Joins 'Good Afternoon America': How Other Housewives Could Break Into Hollywood
'Real Housewives of OC' Recap: Anchors Away