Alicia Keys, Paige Thomas, and Vino Alan on the Surprising Night at 'X Factor'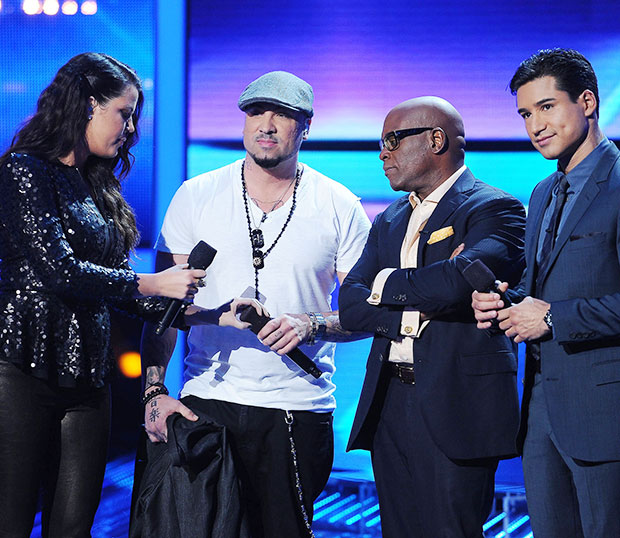 Jaws were hitting the floor last night at the double elimination on The X Factor – but no it wasn't due to Britney Spears forgetting to wear a shirt underneath her cleavage-bearing jacket. (Did Jason approve that get-up, Brit?) After delivering one of her best performances yet, approved and praised by the judges, there was no time wasted to have Paige Thomas packing her bags. (Is this the 2000 election all over again? I demand a recount!) And if that wasn't a big enough surprise for America, the mini-Whitney Houston, a.k.a, Diamond White, and Vino Alan had to belt their hearts out to convince the judges to stay in the competition. Defeat was spelled across Diamond face following her performance, but she was saved by Britney, Simon, and Demi. Oh, my! Khloé Kardashian and Mario Lopez revealed the top 6 – which left no one saying OMG:
1. Carly Rose Sonenclar
2. Tate Stevens
3. Emblem3
4. Fifth Harmony
5. CeCe Frey
6. Diamond White
Holding on for yet another week at the number one slot is the alleged "13-year-old" phenomenon Carly Rose Sonenclar, followed by the loveable Tate Stevens, and One Direction's soon-to-be biggest competition, Emblem3, at number three. Hollywood.com chit-chatted with tonight's performers – Alicia Keys, and last season's runner-up, Josh Krajcik – and the eliminated contestants, who had much to say about the shocking results, and plenty more.
Paige Thomas, on the conspiracy theory of her votes being cancelled:
Paige: That's what I've been tweeted a lot today, too…I don't know if that's true or not, but I did get people tweeting me saying that they called, and my lines were closed, or that they were cancelled.
On her daughter missing her during the competition:
Paige: She always says, "You sing good, Mama, okay? You make me proud!" And I actually got videos of her watching me on TV the weeks that she wasn't able to be out here, and it is the most hilarious thing I've ever seen in my entire life. She would, like, jump up and down like a horse and go 'That's mom! That's mom!' and go to the TV and kiss it.
Vino Alan, on Khloé being his secret fan:
Vino: Because of the feedback I have been getting from… some of the people I can't even tell who it is because they are not supposed to tell me that I'm their favorite or I'm their family's favorite, or their mom's favorite. Khloé wasn't supposed to… so, I didn't expect to go home.
On crying after his elimination:
Vino: I did shed a tear when I saw my mom, because I had to say "sorry" for a second there. It feels like you failed, but then you realize that it is a great platform to make music, and keep doing what I am doing.
On getting type casted due to his look:
Vino: I'm sure. Though because it is something so new and different and so hardcore, and I was doing something that older folks might like, that is what I was worried about – that they would be distracted by the head. Like, "What's going on with his head?"
Alicia Keys, on her new short mommy 'do:
Alicia: Well, I had heard from numerous mothers, a lot of new mothers, that they cut their hair, too. I thought I was kind of special and brave. But apparently, it's a new mother thing. For me, I just had been talking about cutting my hair for a while, and just was kind of figuring out in which way it would feel right. I put out a song called "New Day" that's also on my album, and I was just like, "You know what? It's a new day and I'm cutting this thing off!" So, I did it.
On motherhood changing her as a musician:
Alicia: It definitely changed me. At first, in the beginning when he was first born, it made me way more efficient. I was like, "I got to go. I got to get up really, really early. I can't just be hanging around this place anymore." Which actually made it cooler because I started to be more productive, whereas before I think I wasted more time just because I could.…It's more intimate. It's at a place where I probably couldn't have written two or three years ago, because I just didn't understand it as much. So, I think it's opened me up in a different way to kind of access a deeper emotion that I never knew.
On the love of her baby changing her perspective:
Alicia: I'm fortunate that I have a lot of love in my life, but this is like a whole different kind of love. I experienced the blackout in New York with Sandy, the hurricane, and we lost power and electricity and everything and I was more thinking about like, "If I have to survive this for seven days, how am I going to make sure that the baby is okay?" So, for the first time you start thinking about someone else and not just yourself.
Josh Krajcik, on getting tweeted by Liam Payne from One Direction:
Josh: It's pretty cool to get a tweet from guys that are just killing it. They are cool kids, and I bought their new record. Not because my daughter asked me to, but you know we worked with similar people on our music, so I really love their song 'C'Mon C'Mon.' I had to get it for that.
b>On not seeing Nicole Scherzinger at the judge's panel:
Josh: I email Nicole back and forth, and she is doing great in the UK version. I mean, it's a little weird, but I think Demi and Britney are great.
Khloé Kardashian, on Lamar Odom being electronically challenged:
Khloé: He doesn't really know how to do technology very well, and I have to walk them through it on the phone and it takes forever. I'm like, "Push this button!" I have to tell him everything. Right now, Kourtney is like, "Would Lamar like an iPad mini for Christmas?" I go, "absolutely not."
On her hosting skills improving:
Khloé: Everyone says that I'm getting better and better, and more of my personality is coming out.…I've been getting positive feedback, and people said I have progressed well, and as long as I am progressing. This is our 4th week. At least I'm getting better, and not worse.
[Photo Credit: Ray Mickshaw/Fox]
More:
'The X Factor' Recap: These Girls Are On Fire
'The X Factor' Recap: One Is The Happiest Number
'X Factor' Creative Director Spills on Behind the Scenes Drama and the CeCe Frey Dilemma

'Friday Night Lights' Movie Not Likely, Says Zach Gilford — EXCLUSIVE

'Les Mis,' 'Dark Knight,' and More: The Best Trailers of 2012