'All-Star Celebrity Apprentice' Season Premiere: Who Heard 'You're Fired' First?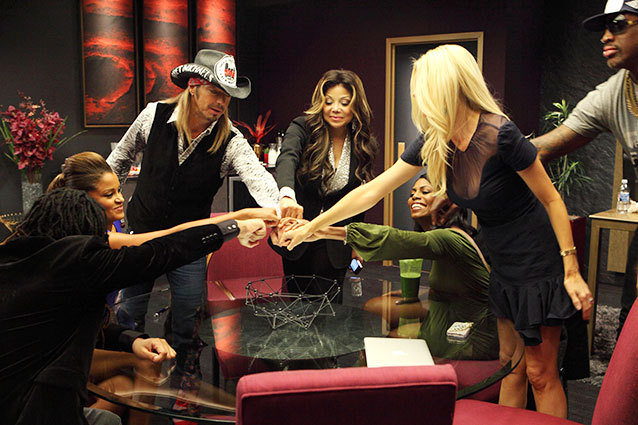 Most reality shows, when you get down to it (and by it I mean your DVR fast forward button), could probably be about 15 minutes long. The two-hour premiere episode of the first-ever All-Star Celebrity Apprentice was really no exception, though if you whittled down host Donald Trump's inane bragging ("I happen to love these things, meatballs") and sexism (he was quick to point out Omarosa's figure and Lisa Rinna's lips), contestant Gary Busey's crazed antics, fruitless arguments, judge Piers Morgan putdowns, Trace Adkins stealing Sam Elliot's voice box, Lil' Jon's love of truffle oil, and declarations that they aren't there to make friends, they are there to win, you might not have any show left to show. 
RELATED: 'All-Star Celebrity Apprentice': Gary Busey Is Back In Your Living Room and Your Nightmares
The episode, titled "The Wolf in Charge of the Hen House", split the all-"stars" into two teams, Team Power (lead by Bret Michaels, and composed of the villainous Omarosa, Lil' Jon, Brande Roderick, Dennis Rodman, La Toya Jackson, and Claudia Jordan) and Team Plan B (lead by Trace Adkins, and composed of Gary Busey, who was quick to point out that their team name is also a birth control device, as well as Penn Jillette, Stephen Baldwin, Dee Snider, Marilu Henner, and Lisa Rinna). 
The teams were given the task of raising funds for their charities by running a meatball shop for a day. Adkins opted to let the money from donors do the talking, while Brande (who literally got on her knees and beg to have Bret give her the title of project manager) put more of an emphasis on the quality of meatballs and less on mathematics. 
RELATED: Even Celebrities Are Fed Up With Donald Trump 
In the end, thanks to donations from big spenders like Amy Grant and Mick Foley (yeah, this show is weird), Adkins and Team Plan B won the challenge by bringing in nearly $420,000 and Bret (who foolishly chose Omarosa to be on his team and then let Brande take the wheel on their project) and La Toya (who, despite being a member of the Jackson family, barely made a blip on the crazy radar) were put on the chopping block for Team Power. 
A few other moments from the All-Star Celebrity Apprentice premiere, before the big "You're fired" reveal: 
– The episode had the contestants meet at the Metropolitan Museum of Art, to kill art, once and for all. 
– "Almost everyone of you has been fired here, most of you will be fired again, but somebody is gonna win" – Donald Trump, CEO of No S**t, Sherlock Industries. 
– Despite the fact that they named their product Naked Balls with Harry's Sauce, Team Plan B still won. 
– "God ain't no punk"- Omarosa's interpretation of the bible. I think that was in the letter from Paul to the Corinthians.
– Kelly Ripa's bizarre rationalization that she is a vegetarian in "real life" but eats meat on television. Does she not think her job on television counts as reality? Kelly, where are you?!
– Alec Baldwin shout-out! Declared by Donald Trump to his brother Stephen Baldwin as a "terrific guy". 
– Ivanka Trump mercifully shooting down the show's rampant sexist attitude after Claudia said a male teammate "was bitching and complaining like a woman." Sisterhood!
RELATED: 15 Surprising Celebrity Lookalikes
In the end, it turned out to be Bret who was told "You're fired" by the Donald, who was peeved with him from the start for having the nerve to compete again. THE NERVE TO COME BACK FOR AN ALL-STAR SEASON WHEN YOU'RE TECHNICALLY THE BEST OF THE ALL-STARS! Of course, Omarosa did what she does best to get the reigning champ out the door first: she manipulated the hell out of everyone around her, even her buddy Donald. Who do you think is going to walk away the champ of this televised oxymoron (all-"stars")  All-Star Celebrity Apprentice? 
[Photo credit: Douglas Gorenstein/NBC]
From Our Partners:


Justin Bieber Celebrates 19th Birthday, Loses His Pants (Vh1)


60 Celebrity Bikini Bodies: Guess Who! (Celebuzz)