Matching the 'Girls' Cast to Their Disney Counterparts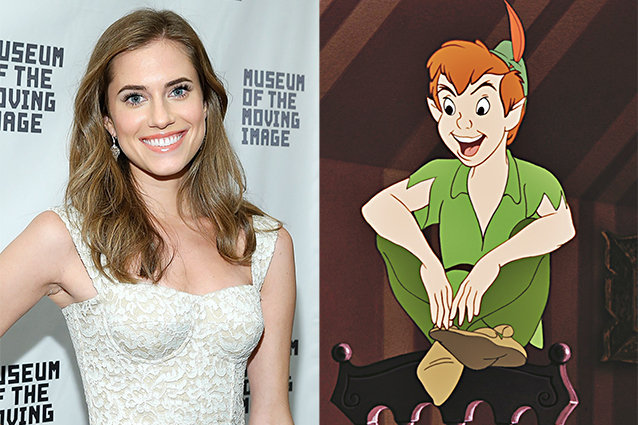 Getty Images/Walt Disney, RKO Radio Pictures
Snarky live-tweeters, start preparing your best one-liners: NBC's got another live musical coming to your teleivison screens, and the casting process for Peter Pan Live! has finally begun. This time around, though, it will be Allison Williams who will endure the brunt of the Internet's sarcasm, as THR announced this morning that the Girls star is set to take on the title role. Williams, whose talent for singing has become the premise for many an episode of the hit HBO show, will join Christopher Walken, who has already been cast as Captain Hook in what will likely be the strangest cast ever assembled.
Still, as Twitter started pitching Girls and Peter Pan mashups and YouTube started re-cutting Marnie's music video to fit in scenes of the classic film, we couldn't help but think it was slightly unfair that Williams was the only cast member getting the Disney treatment. After all, doesn't everyone dream about being a princess or fighting pirates or hanging out with enchanted silverware? Shouldn't Lena Dunham and Co. get the chance to experience some magic as well? In an attempt to spread the happiness and pixie dust around, we've matched each member of the Girls cast with their Disney counterpart, including a slightly more fitting option for Williams, should everything go perfectly on December 4. 
Jemima Kirke: Alice, Alice in Wonderland
Alice is by far the dreamiest Disney character, which makes her the perfect fit for Girls' resident free-spirit. Like Alice, Kirke is probably thinking about whatever avant-garde, slightly-odd-but-mostly-cool things she has going on at the moment instead of paying attention to whatever you're saying, she probably hangs out with all kinds of edgy, eccentric people, and she's probably brave and plucky enough to find her way through any surreal situation she finds herself in. Although, if we're being honest, her style is probably much closer to the Mad Hatter than Alice's boring dress and apron combo.  
Allison Williams: Marie, The Artistocats
Allison Williams is the prim and proper member of the Girls cast, the girly, impeccably put together one, so no offense to Peter Pan, but if she were any Disney character, she would most likely be the feminine, feisty Marie from The Aristocats. Sure, they can both have divisive personalities, but neither one is the type to back down from a challenge, and besides, there's nobody out there with better manners, hair or fashion sense. Just imagine Williams in a big pink bow – it fits her personality perfectly, doesn't it?
Zosia Mamet: Piglet, Winnie the Pooh
While Zosia Mamet isn't quite as neurotic or anxious as Shoshanna, she's still the perfect match for Pooh Bear's best friend. Both are the tiniest ones in their group of friends, both have a tendency to talk quickly and ramble on during conversations, and both seem like they're perpetually worried about something they probably have no control over. Most importantly, though, both seem like they'd be happiest curled up with a big cup of tea and a good book.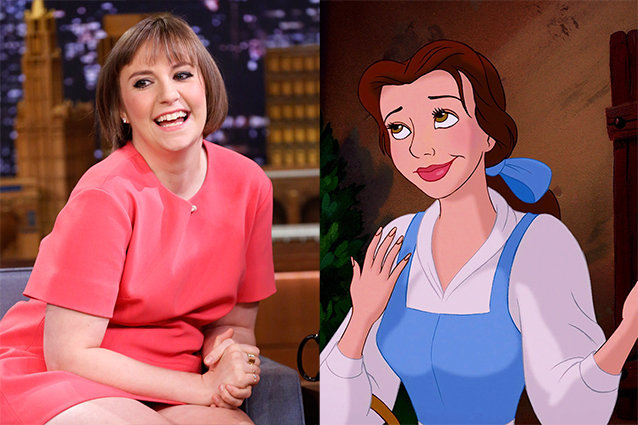 Getty Images/Buena Vista Pictures
Lena Dunham: Belle, Beauty and the Beast  
The first thing we learn about Belle is that she's not like anyone else in her village, and everyone thinks she's weird because of it. The first thing we learned about Lena Dunham when Girls premiered in 2012 was that she was going to be unlike anyone else on TV, and most people thought she was weird because of it. Plus, both have a love of literature – Belle reads constantly and Dunham has a book coming out soon – and they both hang out with an eccentric cast of characters. Belle's friends just happen to be sentient household items.
Adam Driver: Roger, 101 Dalmatians 
Adam Driver is probably the least like his character on Girls, which makes him difficult to match up to a Disney character. Still, in the end, there's one clear winner among all of the Princes and talking animals: Roger, the charming, artistic, slightly goofy hero from 101 Dalmatians. Like Roger, Driver is all arms and legs, towering over everyone else around him, both are incredibly dedicated to their work, and both have partners (off-screen, in Driver's case) that describe them as brilliant. And really, what is "Please Mr. Kennedy" if not the "Cruella De Vil" of its time?
Alex Karpovsky: Milo, Atlantis: The Lost Empire
Perhaps the most underrated member of the Girls cast, Alex Karpovsky often gets overlooked in favor of his more attention-grabbing or taller cast members. So it only seemed appropriate to match him with someone equally underrated, from a likewise-underrated film: Milo, the protagonist of Atlantis: The Lost Empire.  Both are slightly nerdy, both are big-hearted, both are intelligent and both are generally forgotten in conversations about HBO or Disney. It's okay, guys, we appreciate you.