The 'Always Sunny' Gang is Officially Filming 'Lethal Weapon 6.' You're Welcome, Universe.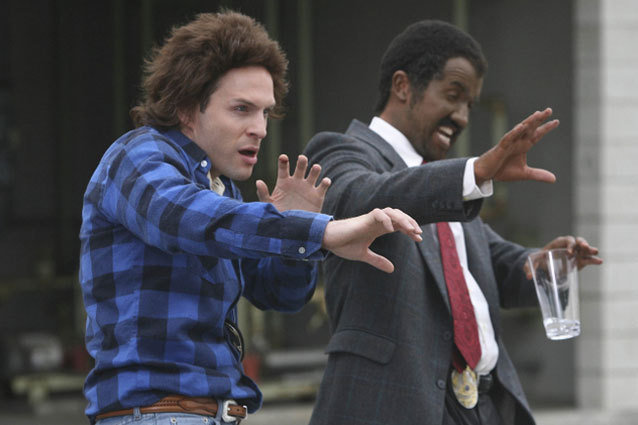 Fans of It's Always Sunny in Philadelphia may have been confused yesterday when news broke that the show's 9th season would be aired on a different network, FX's new comedy channel FXX. But don't worry — we caught up with Rob McElhenney and Glenn Howerton at the FX Upfront party in New York last night, and they assured us that Season 9 would be an experience to remember.
"We're going to do our two most ambitious episodes this year," Howerton said. "The characters are naughty. They're naughty people. They're going to get into naughty things. Bad bad bad."
Well, that's to be expected from "the gang" at this point, but one piece of news had us legitimately freaking out. "I'll tell you what we're doing — we're going to do Lethal Weapon 6," Howerton said. In case you have forgotten (and, how could you?), the gang's version of Lethal Weapon 5, or "The Greatest Movie of All Time" from the episode "Dee Reynolds: Shaping America's Youth" featured Howerton and McElhenney as the iconic Riggs and Murtaugh — only they couldn't decide who would play who due to the issue of black face, so they switched roles halfway through. The guys couldn't give us any details on the next installment (like, will Danny DeVito bang anyone in very excruciatingly graphic detail?) but they promised it would be super duper epic.
RELATED:'It's Always Sunny,' 'The League' Renewed, Moving to FX's New Comedy Channel FXX
Oh, and by the way — Howerton has some things he'd like to clear up regarding last year's finale, "Reynolds vs. Reynolds: The Cereal Defense." Mainly, that it was based on a true story, and that there is absolutely nothing wrong with eating cereal in the car. "Suffice it to say, I don't think there's anything wrong with eating a bowl of cereal in the car if you do it responsibly," he said. "It really happened to me. I was eating cereal in my car, and I got hit. I was sitting at a red light, and someone rear-ended me going 40 miles an hour."
Apparently, Howerton's experience garnered the same reaction it did on the episode. "He came in and told us about it and we laughed, and he got so angry," McElhenney said.
Indeed, he did. The two men argued back and forth for quite some time, until Howerton made the following conclusion: "I'll tell you what I think is f**king stupid — is anybody who is so f**king dumb that they think they can't eat a bowl of cereal in a car. If you can't eat a bowl of cereal in a car, you're a f**king idiot."
Case closed.
Follow Shaunna on Twitter @HWShaunna
[Photo Credit: FX]
---
You Might Also Like:


Topanga's Revealing Lingerie Shoot: Hello '90s!


13 Most WTF Fan Tributes