'Amazing Race' Recap: The Rat Race (Literally!) Continues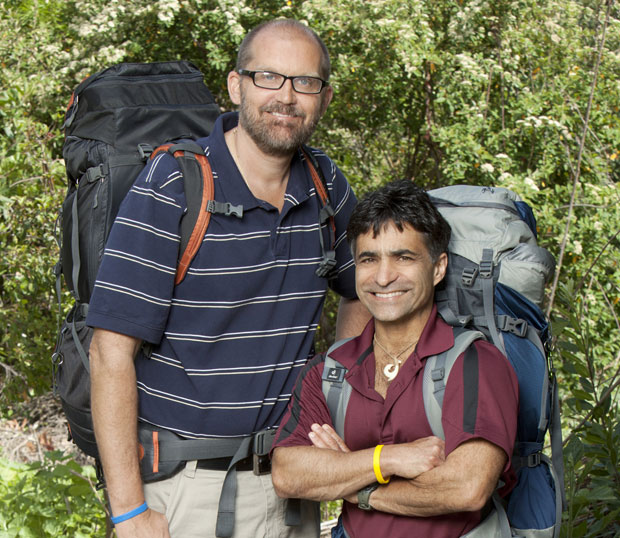 Doesn't matter what reality show we're talking about — it's the simple challenges that are always the most memorable ones. Survivor has gone through probably 500+ challenges at this point in its lifespan, many of them with elaborate Rube Goldberg construction, but the one that stands out most to me remains "keep your hands on this pole the longest." Simple! Or in The Real World, "who will get naked first in or around the hot tub?" Shelve the Dungeons & Dragons rule book; all you need is a little sex, a little grossness, and a lot of great reaction shots.
Now, "challenge" might be a stretch in the case of James and Abba's Fast Forward, but for sheer simplicity? "Fill a bag with dead rats" has to rank among The Amazing Race's most perfect to-the-point activities ever. Literally everything you need to know about this Fast Forward was contained in the instruction above! And in all likelihood the clue the guys received actually had less information — just a picture of a garbage bag with an arrow pointing to a dead rat, stink lines emanating from its body. With no competition, James and Abba rocked (you get it) rat collection and rolled (guitar solo) well ahead of the other teams, straight to the finish line. Which, by the way, was in Bangladesh. This leg was in Bangladesh.
Earlier that day all 9 remaining teams arrived in Dhaka, Bangladesh, after one of those table-clearing flights that's nice this early in the race but so annoying in later rounds. Who wants their hard-fought lead so quickly erased? But this is travel, one realizes, and these things happen. The Amazing Race can impart some pretty practical life lessons!
Dhaka is introduced to us as a city practically fit to burst with cars and traffic, and by the experience of the racers this seems mostly true. "Third world Grand Theft Auto," says one of the twins, endearing herself to me as much as anyone can before she'd so bluntly strip it away with ALL THE TALKING. That's the main takeaway of this episode, in fact — that Natalie and Nadiya (commenters would be great to help me distinguish between the two!) will just never shut up. In the Road Block, which required teams to plaster then smooth a bus surface before hauling some dilapidated furniture, the twins' vocal enthusiasm practically drove everyone else to insanity. James and Jaymes jokingly asked the locals hanging around the buses if they'd consider dating the girls (not really). Lexi rolled her eyes. Annie and Ryan mimed suicide. You can hear the twins ("TWINNIES!!"… wait, #twinnies) jabbering in the background of shots taking place nowhere near them. I'm half-convinced I heard one in Alex Smith's Homeland recap.
Even with all teams making their way to Dhaka and this #Roadblock (be sure to tweet #roadblock any time you encounter and overcome one of life's obstacles!) at the same time, Gary and Will still somehow managed to work their way into last. They're just very good at it! To diminish expectations, they made a bigger and bigger point of calling themselves "fans" of the show (as opposed to… active cast members?). Like all of us, they could see the writing on the wall.
Not that they were the only team to struggle through the Road Block. Top to bottom, teams had a difficult time completing the first segment (plastering a bus) to the liking of the Bangladeshi assessing it. Hell, James (the one who isn't JaYmes) nearly had a panic attack. Much of this, again, was caused/aggravated by #twinnies screaming on end about "being the first women to do this." Paint a bus? Find yourselves on reality TV with men? Sandra Day O'Connor never got this excited about the Supreme Court.
Next up was the episode's Detour, in which teams could "Pound the Metal" or "Pound the Cotton" ("just let me pound something!" said the Frat Guys/Lifelong Friends not selected to be on this season of The Amazing Race), neither of which posed too big a challenge. Abbie spent a year at FIT or somewhere so you knew she would tackle Cotton, which forced teams to stuff and sew a simple mattress. This, to this day, is my favorite part of any episode: when a racer uses skills from the past to complete a task in the present. "I spent a week on a farm once in college," I might say, "so I think I'm well prepared to eat those gazelle intestines." Definitely!
The only possible drama this leg came from a misreading of the Pit Stop Clue. Before stepping on the mat at Shamabazar Chan Mia Ghat (I paused to make sure I spelled it right), teams had to first navigate their river boats to a halfway destination. Rob and Kelley, true to form, failed to notice this detail and were forced to redo the entire course. A commercial-break-cuing mistake! Not that it really mattered — they were fifth the first time they stepped onto the mat, and fifth when they came back around. Gary and Will, of course, didn't fare so well. It strikes me that "David and Goliath" (Rob and Kelley's nickname for them) were already last before they, too, messed up the designated stopping order. What can you say? They tried hard, with a mostly good attitude; they did right by both substitute teachers and best friends. But I'd be lying if a small part of me wasn't relieved to learn this was not a non-elimination round. There are only so many second-to-last place finishes an audience can watch.
And with that, seven teams remain on this season's race around the world. Who is everyone pulling for? Who do you think will win? Sound off in the comments below, and we'll see you again next week.
[Image Credit: Cliff Lipson/CBS]
More:
Amazing Race Recap: "Selamat Tingaal!"
Amazing Race Recap: Taksi Driver
Amazing Race Recap: "The Best Way for Me to Beat the Communists Was to Play Ping-Pong"
From Our Partners:

Pippa Middleton Acknowledges Her Famous Bottom in New Book: 'It's a Bit Startling to Achieve Global Recognition'
(Celebuzz)

LeAnn Rimes Sits Down With Katie Couric For First TV Interview Since Treatment For Cyber Bullying
(Celebuzz)