AMC Picks 'Walking Dead' Talk Show 'Talking Dead'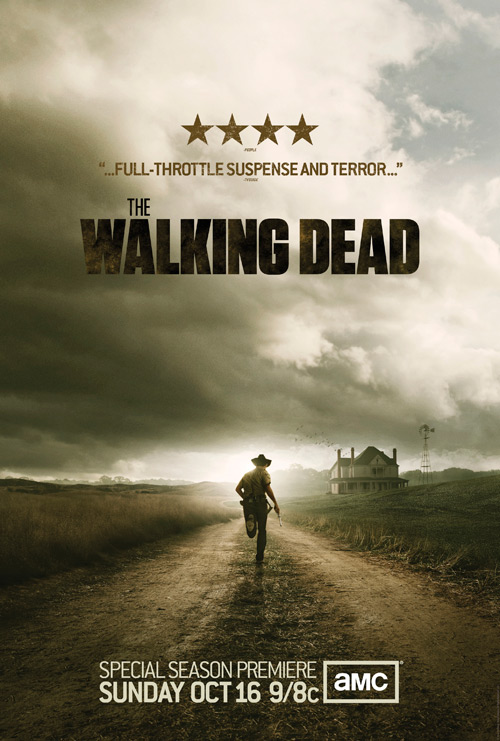 Finally, we'll have a show on AMC that helps us discussThe Walking Dead as soon as it's over. Or rather, we'll have a show on AMC that suspends our conversations with real people, like friends or roommates or my dog who sits there listening intently though he has no idea what zombies are or why I would choose to talk to him about them, but I digress. On Oct. 16, immediately after the encore presentation of the 90-minute Walking Dead premiere, Talking Dead with host Chris Hardwick of the Nerdist podcast and the moderator from The Walking Dead panel at San Diego Comic-Con, will take its first broadcast breath.
The "live water cooler" show will allow fans to tweet, text, comment, and send homing pigeons (okay, they probably don't accept scrolls from messenger birds) to the folks running the show to help drive interactive conversations with Walking Dead cast members and writers as well as other "TV Enthusiasts" which is a much nicer term than the age-old "couch-potato."
It's basically an AMC version of Bravo's Watch What Happens Live, which is a series hosted by Andy Cohen that helps us to better understand the goings on of The Real Housewives series. Having one for a series as beloved and as unique as The Walking Dead is actually a very interesting notion, plus it's cheap to produce, so it may help AMC with their high-production cost, low profit budgetary woes. And the addition of self-professed mega-nerd, Hardwick, is a match made in heaven. You know he's dedicated, because this is the guy who said he'd let Frank Darabont shoot him in the face in order to get a walk-on role as a zombie on the horror series.
Will you be watching Talking Dead?
Source: Deadline via Joel McHale's Twitter