AMC's 'Freakshow': There's a Gentle Soul Below This Face Full of Spikes — EXCLUSIVE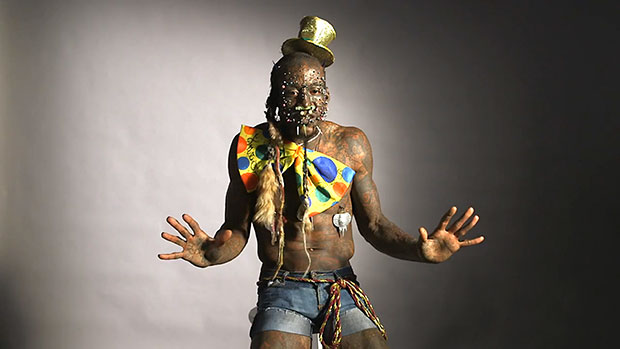 Your challenge, should you choose to accept it, is to watch this exclusive preview from AMC's new reality series Freakshow without making a snap-judgement about Creature, the world's most tattooed, modified person. The challenge starts now.
Meet Marcus Boykin, known to his Freakshow cohorts as Creature, a name he explains as a modification of the word "create." While Boykin's face is covered in baubles, gromets, and spikes and his body is covered in all manner of tattoos, the interview below delivers his story as if he's your average certified public accountant, talking about why his favorite dinner is meatloaf and potatoes.
That's likely because the AMC series, despite being centered on a freakshow in one of America's freakiest locales (Venice Beach, Calif.), is part family drama and part workplace comedy, and aims ultimately to redefine the connotation of the word "freak." Former music producer Todd Ray sets out to procure and run his own Venice freakshow and we (and his family) are along for the ride as we learn that just because a guy has a face full of piercings, wears tiny jean shorts and a clown-approved bowtie, it doesn't mean he's not a normal dude with a family and his own set of daily trials.
Freakshow premieres Thursday, Feb. 14 at 9:30 PM ET.
Follow Kelsea on Twitter @KelseaStahler
[Photo Credit: AMC]
More:
'Powerpuff Girls' Return Involves Ringo Starr, Melts Brains
'The Bachelor' Recap: Wheelin' and Dealin'
'Girl Meets World' Casts Rowan Blanchard as Corey and Topanga's Daughter

20 Hottest Celebrity Bikini Bodies