'Small Town Security' is Not Playing Around — EXCLUSIVE CLIP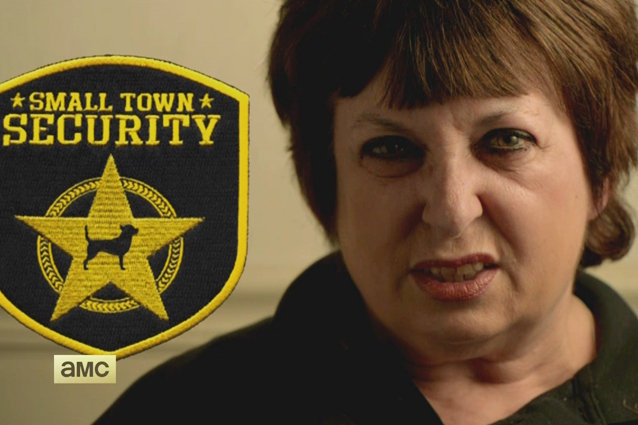 "Take some of that makeup off yo' eyes!" the caller shouts. But Joan Koplan of JKK Security in Ringgold, Georgia isn't having any of it. "Stupid ass," she yells before deleting the voicemail. And so begins the second season of AMC's reality series Small Town Security, a look into the lives of a mystery-solving, wild and ca-razy bunch of security professionals just trying to get by living the dream. But — as our exclusive clip shows below — this small town business is anything but ordinary. And small towns aren't without big dramas (something AMC is quite the expert on).
The series follows Joan and her motley crew of misfits: her business is family owned and operated, but Koplan is a woman who wears many hats — including public access television show host. But she isn't the only one who crams several lives into one. First, there's Joan's husband, Irwin (also known as The Captain); an office manager/detective/process serve Brian Taylor; secretary/licensed cosmetologist Christa Stephens; a 14-year-old chihuahua named Lambchop, and Dennis Croft: Joan's live-in lieutenant and co-host, who is not only hopelessly in love with her, but is also a female-to-male transitioned transsexual formally named Denise.
Between Joan's freewheeling mouth and her team's fast-and-loose way of working, it's no surprise someone turned them into a reality show. Check out the clip below and see for yourself.
Small Town Security  airs its second season Thursdays at 10 PM starting May 9 on AMC. Will you be tuning in? Let us know in the comments below.
Follow @AliciaLutes on Twitter
More: 
What Happens Off-Camera on 'Small Town Security'
Watch 'Small Town Security' Solve its Latest Mystery
'Small Town Security': Not Quite Hot on the Trail 
---
From Our Partners


Stars Pose Naked for 'Allure' (Celebuzz)


Which Game of Thrones Actor Looks Least Like His Character? (Vulture)