'America's Got Talent' Reaction: Dial Back the Stern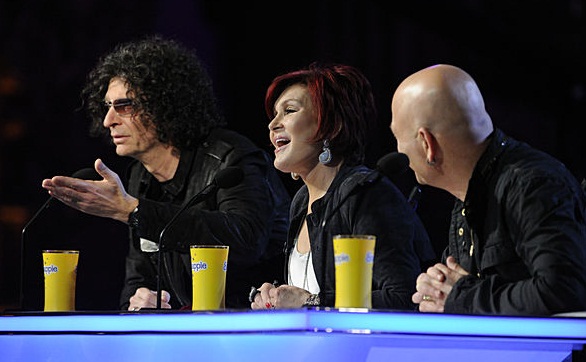 Do you like Howard Stern? Even when he's not being vulgar and making his interviewees uncomfortable? If so, you'll love the new America's Got Talent. The season premiere features two hours of a watered-down Stern, spotlight-centric, with a few contestants peppered sporadically throughout. Some pretty good contestants, mind you. But they all take a back seat to the NBC program's new judge.
It is to be expected that the host, known for his abrasive persona, would be the main focus of the episode. Ever since Stern was hired on to replace Piers Morgan, America's Got Talent has based all of its promotional material around the newcomer's arrival. And it's a smart move: he's a character, beloved by many, loathed by many. 
But the Howard Stern people think of — the lovers and the haters alike — is an envelope pusher. He earned his notoriety by being courageous, offensive and original. If the premiere is any indication, Stern isn't really slated to offer any of those things. He's still funny; fans of his will enjoy watching him play the nebbish, toss some sardonic jabs at co-judges
Howie Mandel
and
Sharon Osbourne
, and a few more at some of the less "inspiring"
AGT
contestants. But this incarnation of Stern would fare better occupying a little less of the camera's attention than he does during the season premiere.
And maybe he will. After all, a premiere — season or series (in this case, it's a little bit of both, as a new judge sort of marks a "rebirth" of a program like this) — is never a truly faithful indication of what is to come. It highlights could be the greatest aspects, while subtly introducing other necessary, but less immediately gripping, aspects. Hopefully, fans will see more of the brilliant string instrumentalist, the touching father-daughter duets (there are two of 'em), and the awe-inducing light-show dancers. Oh, and Simply Sergio: a goofball singer who introduced his act with a silly song-and-dance number before breaking out into a terrific rendition of "God Bless America." The act was overshadowed by Stern's insistence on taking the stage and hugging Simply (a shorthand Mandel comically created). You're busting out these moments too soon, Stern. They'll mean more later on.
As far as the premiere's acts go, many of them are truly impressive. One contestant (the first "yes" of the episode), turned the entire AGT theater into a string instrument (attaching strings to various parts of the building's interior). This is easily the most interesting act of the night, and hopefully one that will carry far in the season. Other noteworthy mentions include a skilled crossbow operator, who must have been much more thrilling live (the close-calls with his lovely assistant don't really translate as all that exciting on television, where you know everything is going to be fine). Plus, the panel approved a team of dancers who wore glow-in-the-dark costumes that depicted images like dinosaurs and other creatures. The show featured several dance teams, an extreme sports troupe, a dog ventriloquist, and a guy who put a live scorpion in his mouth. And these are just the "yeses," folks.
Stern does add a life and humor that will serve the show well. Hopefully, he'll take a step back in the upcoming episodes and let the talent speak for itself, offering his trademark style (maybe jazzed up a bit? but who knows) when appropriate. Whether you like Stern or not, the show is worth keeping up with just for the interesting acts… as it should be.
More:
DWTS Recap: Katherine Jenkins Takes a Tumble
X Factor Adds Britney And Demi: Why It Could Work