'America's Got Talent' Tops List of 50 Most-Watched Summer Shows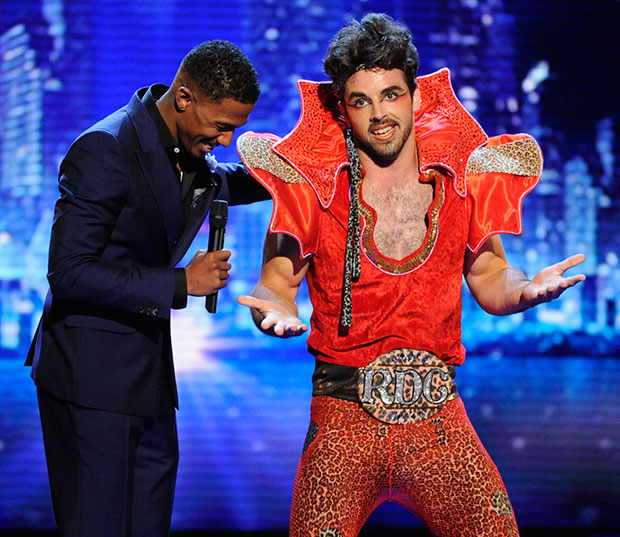 Were you watching America's Got Talent this summer? Even if you say no, the numbers say yes (so there's no point trying to pretend that you didn't get your Stern on every Monday, Tuesday and Wednesday night).
EW listed the 50 most-watched television programs from this summer, and the results are overwhelmingly supportive of NBC's talent competition, which clocks in with the three leading spots for three of the show's four-a-week installments. The eighth season of The Bachelorette came in fourth, which was one of the only bits of good news for ABC (the Alphabet didn't have another entry on the list until Rookie Blue at #23). Rounding out the top five was CBS's perennial favorite NCIS, which led the whopping 24 spots filled by CBS shows.
How did your favorite summer shows compare to, well, some of your less favorite summer shows?
Note: This data represents the time period from May 25 through August 12.
1. America's Got Talent, NBC, Mondays (12.61 million)
2. AGT, Tuesdays (12.15 million)
3. AGT, Wednesdays (10.7 million)
4. The Bachelorette, ABC (8.3 million)
5. NCIS, CBS (8.2 million)
6. The Big Bang Theory, CBS (8.1 million)
7. 60 Minutes, CBS (7.6 million)
8. Harry's Law, NBC (7.5 million)
9. The Mentalist, CBS (7.18 million)
10. Hell's Kitchen, Fox, Mondays (7.15 million)
11. Masterchef, Fox, Mondays (6.9 million)
12. Hell's Kitchen, Tuesdays (6.7 million)
13. Big Brother, CBS, Thursdays (6.69 million)
14. So You Think You Can Dance, Fox, Wednesdays (6.61 million)
15. Person of Interest, CBS (6.55 million)
16. 2 Broke Girls, CBS, Thursdays (6.52 million)
17. NCIS: LA, CBS (6.47 million)
18. 60 Minutes Presents, CBS (6.433 million)
19. Rules of Engagement, CBS (6.432 million)
20. AGT, Tuesdays at 8 (6.2 million)
21. Big Brother, Sundays (6.19 million)
22. Big Brother, Wednesdays (6.10 million)
23. Rookie Blue, ABC (6.09 million)
24. Touch, Fox (6.04 million)
25. Two and a Half Men, Thursdays, CBS (5.9 million)
26. Wipeout, ABC, Thursdays (5.89 million)
27. 48 Hours Mystery, CBS, Tuesdays (5.88 million)
28. Duets, ABC (5.85 million)
29. CSI, CBS (5.80 million)
30. American Ninja Warrior, NBC (5.7 million)
31. Masterchef, Tuesdays (5.6 million)
32. Two and a Half Men, Mondays (5.58 million)
33. Criminal Minds, CBS (5.54 million)
34. Dogs in the City, CBS (5.51 million)
35. Castle, ABC (5.37 million)
36. Dateline, NBC, Fridays (5.36 million)
37. Hawaii Five-0, CBS (5.33 million)
38. Dateline,  Sundays (5.31 million)
39. Love in the Wild, NBC (5.1 million)
40. Person of Interest, Tuesdays (5.09 million)
41. Blue Bloods, CBS, (5.08 million)
42. Mike & Molly, CBS (4.99 million)
43. Dateline Classic, NBC, Fridays (4.94 million)
44. CSI: Miami, CBS (4.89 million)
45. 20/20, ABC, Fridays (4.82 million)
46. Secret Millionaire, ABC (4.81 million)
47. 48 Hours Mystery, CBS (4.68 million)
48. AGT, Sundays at 10 (4.61 million)
49. Off Their Rockers, NBC (4.60 million)
50. America's Funniest Home Videos, ABC (4.5 million)