'American Dad' Recap: The Independent Movie Episode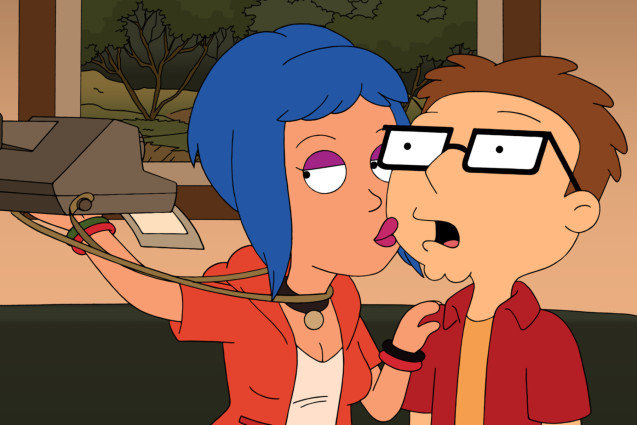 FOX
Stan, the bullheaded and ridiculously large-chinned patriarch of the Smith family, decides to team up with Roger the alien and Hideki, an eccentric party host who always "trusts his gut." Hideki's gut literally rumbles when something feels right. Later on, Stan and Roger's guts rumble when they come up with the idea of a cake-cutting device that will slice individual pieces in an instant. They should get that gut rumbling checked, that's not normal.
After that opening, the entire episode revolves around the death of Snot's father. Yes, the whole gut thing is tossed aside in favor of Steve's idea to go on a road trip to Snot's dad's funeral. Nerdy Steve convinces Snot, Barry and Toshi.
At this point, the episode "changes" into an indie movie. The screen gets dim and grainy. Those little lines and dots you see on old films occasionally flash on the screen. It's a minimal effect, but a clever one. Their road trip starts off the group picking up a hitchhiker (he's a meth addict and takes off when they pull over). Snot is totally indifferent about this trip, since he never cared for his negligent dad. Toshi travels to a corn field, stripping off his shirt and glasses, wrapping a leaf in a bandanna style around his head. It doesn't make sense because it's indie, remember?
Stan, Barry and Snot stop at a motel to rest up. A cool, blue haired-girl catches the attention of Steve at the motel. Blue Hair (voiced by Zooey Deschanel) is a quirky girl — we're indie now, remember? She shoots Polaroid photos at random locations, blows bubbles out of a smoking pipe and says she wears ice skates to weddings. Steve decides to spend time in a hot tub rather than continue to the funeral.
The episode ends when Steve realizes his error, hitchhiking on an 18-wheel truck to meet up with Snot and Barry at the funeral. Steve makes it, but doesn't get off. He tells the truck driver to keep going. The episode ends. No sense. Indie. During the credits, Stan, Roger and Hideki celebrate their idea with a giant cake. Their guts rumble and the three of them pull two guns each, pointed right at their business partners. "What now?" Stan asks. The screen goes black. A gunshot's heard. Roger says that Hideki was shot.