'American Gods' Headed To HBO Via Playtone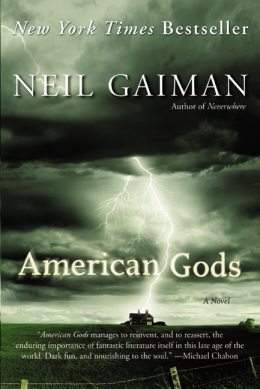 Unless all TV critics are sleeping with George R.R. Martin (and that would really suck), Game Of Thrones is poised to become the breakout hit of 2011. HBO has a long history of profound programming and, with True Blood, Boardwalk Empire and now Thrones, the premium channel has a new trifecta of engrossing shows that will carry it well into the new decade. But the Time Warner-owned outlet is also circling another epic property recently optioned for adaptation: Neil Gaiman's American Gods.
Per Deadline, the novel centers on a battle between two sets of gods: one consisting of traditional gods and mythological creatures who got their power because people throughout history believed in them. They are losing power as people's beliefs wane and are in danger of being supplanted by a new set of gods who reflect America's preoccupation with technological advancements and obsessions with media, celebrity, technology and drugs. The protagonist is an ex-con who becomes the traveling partner of a conman who turns out to be one of the older gods trying to recruit troops to battle the upstart deities. 
Playtone Productions, Tom Hanks and Gary Goetzman's company which supplied HBO with Big Love, Band of Brothers, The Pacific and John Adams, brought the project to the channel and has Robert Richardson (best known as an Oscar winning cinematographer for The Aviator and JFK) and Gaiman attached to write the pilot. My guess is that Richardson could make his directorial debut with this series, something I'd be very interested in seeing.  Gaiman's work has always been made with a cinematic eye, as his novels Coraline and Stardust were both turned into films with a third (The Graveyard Book from director Neil Jordan) on the way. The scale of this story makes me both attracted and hesitant to seeing it turned into a TV series. Don't get me wrong, I love the idea, but to execute it in an authentic fashion, the filmmakers will need to conjure a tremendous amount of special effects and movie-making magic to show us believable Gods at war. If there ever was a channel to do it, it's HBO, but the creative team is a linchpin to the process. Richardson is a great start; what else you got, HBO?
Source: Deadline