'American Horror Story': 6 Things To Expect From Tonight's Mad, Mad Finale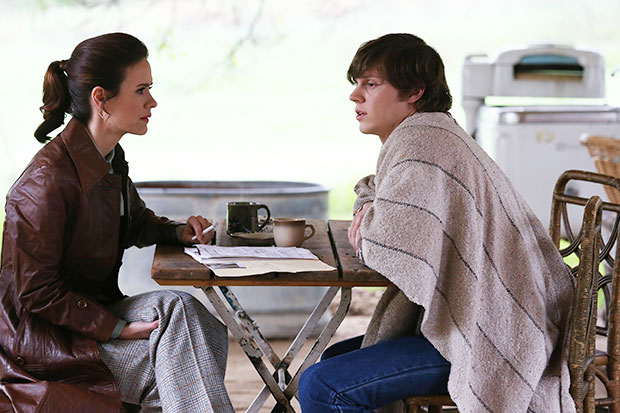 It's hard to believe that this season series of American Horror Story is coming to an end, but alas, it's time to say goodbye to Sistah Jude, Kit Walker, Bloody Face 2.0, and, of course, Ms. Lana Banana. During last week's episode, 2 out of 3 of our protagonists were facing dire circumstances (again): Jude was left in a cell to rot, and Kit lost both (!) of his axe-loving wives. And while it may have seemed impossible during the beginning of the series to wrap up all of its insane plot lines (demons! Nazis! Aliens! Psycho Killers!), Hollywood.com has screened the appropriately titled episode, "Madness Ends," and can confirm that it does so, wonderfully. We won't ruin anything, but for those who are a fan of teases, here are six things to expect during tonight's finale: [SPOILERS AHEAD]
Four Major Characters Bite the Dust: However, don't assume that this is necessarily a bad thing. Some get beautiful endings, while others — well, you'll see. Just desserts, and all.
Lana Banana is Essentially Barbara Walters: You will see a modern-day Lana B., and she's one of the most influential interviewers in her field. One of these things is true: A. She knows Bono, B. She scored the first major interview with Lance Armstrong after his doping scandal.
You'll Get One More Horrific Sequence in Briarcliff: Everyone we know (minus Jude) has left the hellish nightmare that served as the setting (and, arguably, as a major character) of this series, but tonight you'll get a look at the final, shocking exposé that got the whole thing shut down. Somehow, the state of Massachusetts managed to make it worse than when it was run by a Nazi doctor and the Devil.
'The Tape' Will Return: Remember that confession from Bloody Face 1.0 that Lana took with her when she left Briarcliff, the second time? It's back, and deadlier than ever.
Many Deceased Major Characters Return: You'll see flashbacks from Adam Levine and Jenna Dewan-Tatum's ill-fated honeymoon, as well as glimpses of Chloë Sevigny and a few other unlucky folks who may or may not be avenged.
The Alien Plot is Not Really Settled: It's not a huge complaint since the episode was beautiful, but don't expect a tell-all on the little green men. We're still pretty confused as to why they wanted Kit to raise their babies. (The kids are really, really cute, though.)
Watch AHS tonight at 10PM ET/PT on FX, or face a lashing from Sistah Jude.
Follow Shaunna on Twitter @HWShaunna
[PHOTO CREDIT: Byron Cohen/FX ]
MORE:
'American Horror Story' Season 3 Scoop: Horror-Comedy 'Crafted Around' Jessica Lange
'American Horror Story' By the Numbers: The Flying Nun
'American Horror Story' By the Numbers: Happy Endings

Child Stars: Where Are They Now? (Celebuzz)