'American Horror Story: Asylum' Premiere Explanations and Expectations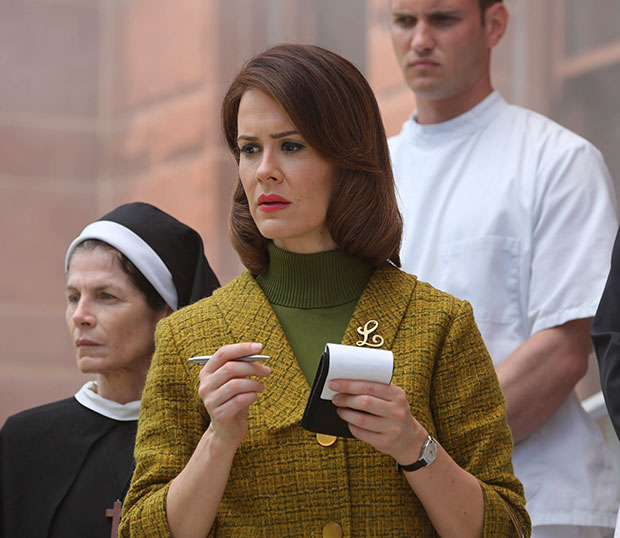 The American Horror Story goal is very clear: Each season will feature a completely different time and setting in hopes of evoking feelings of true panic and terror from its viewers—it's working. Last night's premiere of AHS: Asylum highlighted an array of fears that keep many Americans up at night: Aliens, mass-murders, vicious creatures lurking in the woods, operations without anesthesia, and limbless Adam Levine. (How will he push the button?!)
If you're anything like us, then you were probably watching the majority of the episode from the tiny cracks between your fingers as you attempted to shield your eyes from the horrors on screen. Luckily for all you scaredy-cats out there, Hollywood.com caught up with the stars of the asylum at the American Horror Story premiere this past weekend to get all the terrifying details you have missed, plus what to expect as the season progresses.
Premiere Explanations: Welcome to Briarcliff Manor, a former tuberculosis ward turned sanitarium that boasts more than 46,000 deaths. In the twisted new drama, Joseph Fiennes encompasses the role of Monsignor Timothy Howard, the head of a nun-run institution in New England. The English actor explains that like season one's haunted house, Briarcliff is a character in itself. "It's very evocative. It's stark. You're thrown into a world where there's a very bleak point of view on mental illness and it's terrifying." Fiennes revealed.
"In today's world, when you look back you think that now we're much more forgiving on mental illness, but in that day and age it was less so. So incarceration was pretty much the answer along with some pretty dire, torturous treatments along with that." He explained. Whether being forced to repent for their sins or having their problems sliced out of them, the patients at Briarcliff manor could not be further away from today's cushy rehab facilities. Fiennes says that his character is hoping to bring a sense of balance to the asylum. "He has brought in Sister Jude played by Jessica Lange to run the institute alongside Dr. Arden (James Cromwell) who is a wonderful doctor. So both from a medical and spiritual point of view he's running it and heading up this institute."
Referring to Dr. Arden as a "wonderful" anything seems to be a bit of a stretch. So far we know that the crazed scalpel-loving doctor has been operating on patients who have no family ties. Although it's yet to be spelled out in black and white, it's safe to assume that the doctor is using the flesh of the deceased mentally ill to feed some unknown creatures in the woods. These ravenous animals will soon be known as "raspers" and rest assured AHS fans, we will be seeing their hideous shapes soon enough.
Together Sister Jude, Dr. Arden, and Monsignor Howard are somewhat begrudgingly teaming up to "cure" the patients of Briarcliff from all their illnesses whether that be nymphomania, the desire to skin women alive, or loving someone of the same sex. Fiennes warns, "I think really this show is a meditation on madness and insanity and we'll see that those inside are maybe not as crazy as those who are running it."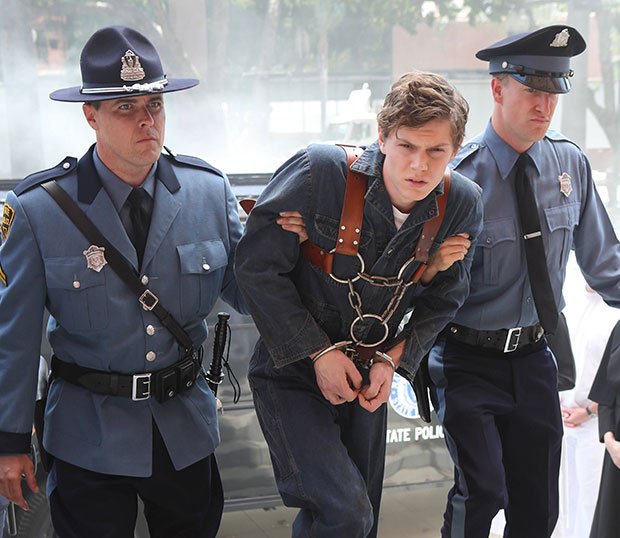 Looking Ahead: Next week's episode will introduce us to Dr. Oliver Thredson played by returning fan-favorite Zachary Quinto. In contrast to last year's character, (a Halloween-obsessed and aspiring gay dad) Quinto will now play a psychiatrist who possesses logic, reason and, most importantly, compassion—something that the patients of Briarcliff are in desperate need of. The psychiatrist will be coming in to help determine the sanity of Kit (Evan Peters) but once he witnesses some of the less-than lovely and unorthodox treatments he is beyond concerned with the well-being of the asylum inhabitants.
Further into the season, Breaking Bad fans will hear that faint "ding" of recollection when they see a familiar face lurking in the corners of the asylum. Mark Margolis is thrilled to have been a part of the two "groundbreaking" cable hits ("They're both beautifully written.") but the actor says that his time on Breaking Bad did not help prepare him for his role on AHS. "I had to speak on this! I'm usually just ringing a bell, but they actually wanted me to say words," he shrugged with a smile. "And the character that I'm playing on this is a million miles away from the character that I played on Breaking Bad." There is very little known about Margolis' character other than his name: Sam Goodwin. "He's my age and looks a lot like me." The former Tio Salamanca teases, "I can't tell you a whole lot about him. Somebody back there said my character is a hunter, which is a kind of general and vague idea of him, but I said, 'Okay, it's hunting season.'"
Compare and Contrast: As someone who has first hand experiences with both the Harmon house and Briarcliff, Quinto is definitely an authority on which season is going to be more terrifying. Without hesitation the actor reveals that AHS: Asylum will take the tormented cake. He said,  "It's going to be scarier. It's more brutal and uncompromising and relentless." When describing the upcoming season in three words, Quinto was very meticulous with his choices. The actor summarizes, "Daring, bold and just truly scary." Echoing Quinto's thoughts, Lily Rabe—another season one alum—believes Asylum has more of a mental edge to it. The 1920s socialite turned wide-eyed nun explains, "They're both terrifying in different ways. This season, it's really more psychologically disturbing. It still makes you jump and has that kind of scary too, but it will also keep you up at night and give you bad dreams."
And although Fiennes did not star in the first season, the TV-entitled Monsignor followed the show religiously. "I think in a very subtle way we're dealing with an anthology and I think there is a meditation within each season of the show that breathes under the umbrella of American horror. The first being the break up and disintegration of a marriage, infidelity as well as the haunted house. Whereas I think that this is a meditation on madness." Fiennes continues, "I think they're very different. Since [this season] is dealing with an institution, I find that more scary because we could all end up there… It's creepy, it's very very creepy."
What did you think of last night's premiere? Intrigued for what's to come on American Horror Story: Asylum? Scream your thoughts in the comments below!
Follow Leanne on Twitter @LeanneAguilera
[Photo Credit: FX]
MORE:
Everything You Need to Know Before Tonight's 'American Horror Story' Premiere
'American Horror Story: Asylum': Watch the First Five Minutes Now!
'American Horror Story: Asylum' Scares Up New Promo — VIDEO
From Our Partners:

Giuliana and Bill Rancic Planning for Baby No. 2: 'I Would Love a Girl,' Says E Host
(Celebuzz)

Kate Upton Flaunts Major Cleavage in Vogue's November Issue — PHOTOS
(Celebuzz)