The Opening Credit Sequence for 'American Horror Story: Coven' Is Completely Terrifying
Well, the new American Horror Story: Coven opening credits sequence is officially terrifying, but hopefully the release of the credits before the premiere will do more than just scare the bejeezus out of everyone. The images, paired with the classically creepy AHS intro music, may be giving us clues as to what's to come in this season of FX's horror series. (Or it could just be a montage of random clips that have nothing to do with anything.)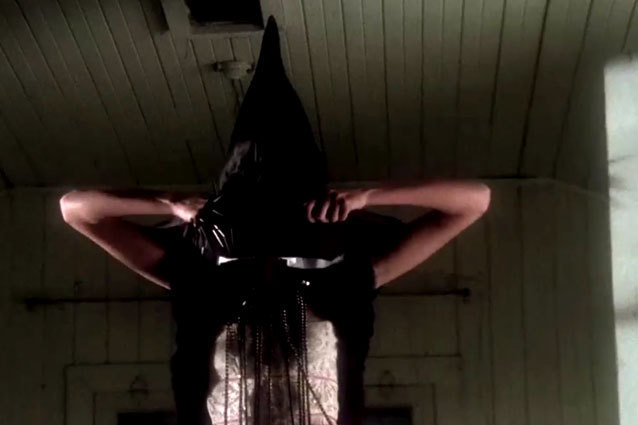 FX
Here's what me might be watching (while our hands are over our eyes, obviously) on AHS: Coven:
– The KKK? Seriously, Ryan Murphy? While the mysterious people cloaked in what looks to be black KKK outfits could just be characters of Murphy's own creation, it wouldn't be too farfetched to think that AHS would write in one of the worst real-life horror stories ever. (Murphy has a habit of basing storylines off of historical events.)
– People's mouths sewn together. Wonderful.
– VOODOO. So much voodoo, guys.
– Possibly one of the most terrifying creatures I have ever seen wandering through the woods. It's like a mix between a Praying Mantis and a skeleton bat. I'm not even joking.
– Woodland animals that remind me of Maryann, one of the villains in season two of True Blood who casually attempted to brainwash everyone while wearing a bull's head. (Or there are just a bunch of furries in this season, which is actually much scarier.)
– Cats! Levitation! Creepy elegance! People being burned in a fire! Because they're witches, duh.
American Horror Stories: Coven premieres Oct. 9 at 10 P.M. on FX.
More:
New 'American Horror Story' Promos Are Serving Up a Double-Helping of Creepy
New Snake-Swallowing 'American Horror Story: Coven' Poster is the Freakiest Thing You'll Ever See
Gabourey Sidibe Joins Ryan Murphy's 'American Horror Story: Coven'
---
From Our Partners:


A Complete History Of Twerking (1993-2013) (Vh1)


20 Grisliest TV Deaths of 2012-2013 (Vulture)