'AHS: Coven' Recap: Don't Mess With the Real Supreme (Season 3, Episode 5)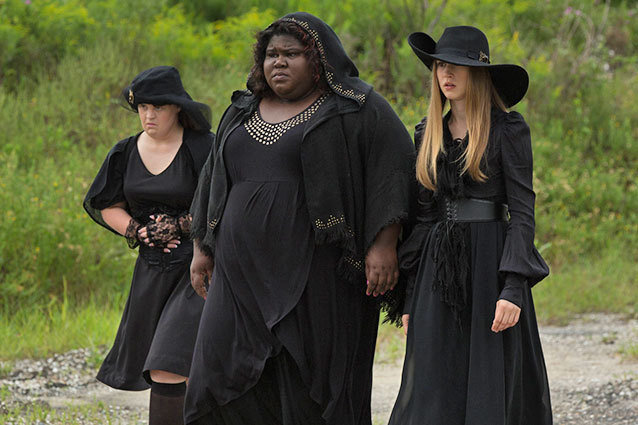 FX
The episode begins with a flashback to the mansion of Madam Delphine LaLaurie (Kathy Bates). What is her favorite Halloween activity, you ask? Why chopping up slaves and parading their body parts in her "chamber of horrors."  She also pioneered the use of really fuzzy lighting to look younger. Later, when her daughters fantasize about killing her, Misery Delphine locks them up and tortures them by making them literally eat s**t.
In the present, Miss Robichaux's Academy for Girls Ill Equipped at Fighting is under attack by zombies. Mister Christian Luke (Alexander Dreymon) thinks it's a prank so he runs outside and gets the ax…literally. Nan (Jamie Brewer) decides to go out and save him but gets trapped. Precious Queenie (Gabourey Sidibe) smartly references Army of Darkness for legal reasons.
We find out that The Voodoo Queen (Angela Bassett) has used the spell from "Thriller" to send "creatures that crawl in search of blood
 to terrorize y'alls neighborhood." Seems simple enough until Zoe kills a whole mess of zombies using a chainsaw. Luckily, since Queenie referenced Army of Darkness there will be no lawsuits. With their track record, Miss Robichaux's couldn't make much money selling cookies to raise money.
Meanwhile, Cordelia Fox (Sarah Paulson) is still reeling from her unfortunate porn star name eye injury. She gets taken to the hospital and its revealed that she's blind. While her daughter is trying to recuperate, Fiona (Jessica Lange) decides to live out her Nurse Jackie fantasy and raid the pharmacy then she gets high and resurrects a dead baby. Cordelia's cheating husband pops by finds out she's blind and tries to console her. When he does, Cordelia sees that he cheated which means she may be able to see all kinds of things now that she's blind.
Zoe (Taissa Farmiga) is cornered by the last zombie and finds out she has more power than her killer ladybits. She says some inaudible phrase and gives Stella (Bassett) her groove back…literally.  She gets knocked down to the floor. Looks like the new supreme is revealed.
Once the zombie issue is resolved, Fiona has to deal with the Pointer Sisters Witches Council. Myrtle Snow (Frances Conroy) moves for Fiona to be ousted as Supreme. We find out that not only has Myrtle been damaging her hair but she's also been stalking Fiona. Poof, there's acid on her hand and she's sentenced to death. Looks like her hair isn't the only thing getting burned. Sadly, there's no leave-in conditioner to keep you alive, Myrtle. 
Everyone watches Myrtle's funeral. Then there's a couple of "Oh Snap!" moments. We find out that Queenie helped frame Myrtle for the acid trip attack. Fiona tempts Queenie with an offer to be the New Supreme. We also see Crazy Nicks aka Misty Day (Lily Rabe) resurrect Myrtle.
What We've Learned
Albino's make really great security guards.
Fiona really loves pills and American Spirits.
Zoe is the supreme, duh!
Witches can have more than one power. Madison (Emma Roberts) had telekinesis and pyrokinesis. It looks like Cordelia may develop a new power…because let's face it she didn't see her man cheating before but now she can. Also, someone managed to blind Cordelia and tease Fiona by talking through a crazy person.