Ryan Murphy Reveals Wicked Season Three Secrets of 'American Horror Story'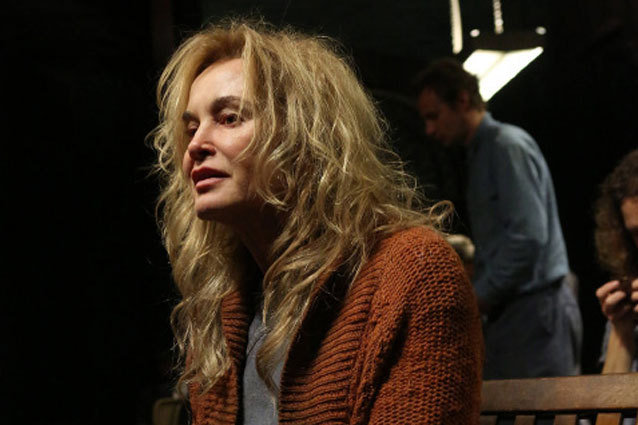 Double, double, toil and trouble; fire burn and caldron bubble! We apologize if this all sounds like a bunch of hocus pocus to all of you, but we've just returned from PaleyFest, where American Horror Story creator Ryan Murphy revealed new details about the highly anticipated third season.
Keeping with the tradition of Asylum, Murphy confirmed that the next season of the FX hit will also features a subtitle that will describe the general theme of the season. Get ready, horror fans, because American Horror Story: Coven will soon cast a spell on a TV screen near you.
RELATED: Frances Conroy Reveals 'American Horror Story' Season 3's New Location
Although Murphy wouldn't divulge further details on the significance of "Coven," the term strongly indicates what many fans have been speculating for months — Season 3 will revolve around witches. Murphy offered, "It's a really cool story that we've been talking for a couple years, and this seemed to be the year to do it."
Murphy already revealed that the new season will once again center on Jessica Lange, but this time the captivating actress will portray a more "glamour cat" type character. Lange quipped to the packed PaleyFest theater, "I don't know what a glamour cat is, but I am excited,"
RELATED: Kathy Bates Signs on to 'American 'Horror Story'
Kathy Bates — who has been confirmed to star in the next season — made a surprise appearance at the panel. Bates admitted that she has been a big fan of American Horror Story and religiously watches each and every episode. "I've loved it from the very beginning," Bates said, "I called up Jessica and told her to talk to Ryan and tell him I'd do anything on the show."
Little did she know, Murphy had already decided that Bates would be the perfect actress to help lead the wicked new season. The showrunner teased Bate's role as a "cuckoo-for-Cocoa Puffs character" who is reported to be the best friend-turned-enemy of Lange's character. "I wanted to see a lot of scenes with Jessica Lange and Kathy Bates going at it, and that's what you're going to see," he said to the roar of fans.
RELATED: 'American Horror Story' Season 3 Scoop
While Frances Conroy has already revealed that season three of AHS would largely take place in New Orleans, Murphy confirmed that New Orleans is just one of the cities in which Coven will take place. "The fun thing is researching what are the really haunted places in America, and we have a couple doozy locales," he said.
During the panel, Murphy also boasted that fans should not worry about American Horror Story disappearing anytime soon. The creator said he still has plenty of ideas for upcoming seasons that he could see 10 years' worth of stories — and maybe even a spin-off. "I have been talking to John [Landgraf] about doing a companion piece to American Horror Story," Murphy said with a coy smile.
Follow Leanne on Twitter @LeanneAguilera
[Photo Credit: FX]
---
You Might Also Like:


14 Movies Thshiat Are, Surprisingly, Not Porn


Stars Who Have Lost Roles For Being Too Hot (Celebuzz)