'American Horror Story' Renewed for Season 3 — Where Will They Haunt Next?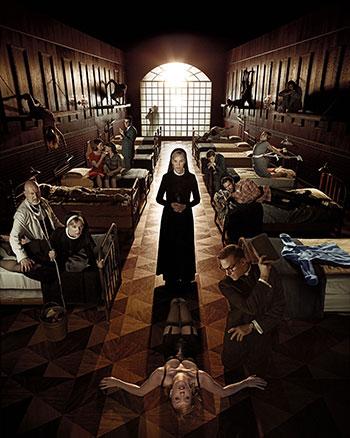 American Horror Story, the polarizing, exactly-what-it-sounds-like, fantasy horror series from Glee creator Ryan Murphy, has elongated its stay on FX with the announcement of a Season 3. The network confirms that AHS has been renewed for a third installment, consisting of 13 episodes, set to premiere in the fall of 2013.
Murphy's series takes an interesting form, introducing a new venue and set of characters each season for a self-contained, independent ghost story. Season 1 focused on a haunted house with a treacherous past, wreaking havoc on its new residents (married couple Connie Britton and Dylan McDermott and their daughter Taissa Farmiga), while the present second season places its eyes on the darkness lurking within a psychiatric asylum.
So the obvious question: where next?
Amusement Park: A Scooby-Doo mainstay, amusement parks have found their way into the horror genre time and time again. Roller coasters, Ferris wheels, the odd cotton candy machine — all perfect territory for macabre histories.
Elementary School: This one will ordain a large number of particularly young starring players, but so long as their acting capabilities are in order, the idea of a haunted grammar school could indeed be doubly frightening. It's always scarier when little kids are involved.
College Dormitory: Conversely, watching 19-year-olds fall victim to a vengeful dead coed might be easier to swallow, but there's the added benefit of some of the teen sexuality with which the Glee creator is so enamored.
Playhouse: Theater is riddled with curses and superstitions. You can't say Macbeth or "Good luck," and there's that whole shebang about warding off spirits with a center-stage ghost light. Rife for parody, and for some energetic (and even musical!) horrors.
Video Game: This one will involve a little more creativity. A multiplayer online game, an original World of Warcraft knockoff, that is infested by a ghostly player who somehow works his way past the onscreen adventures of his opponents and into their actual lives… making them substantially shorter.
Barbershop: Ol' Sal was cut short in his prime by a devastating pompadour accident. And now, he haunts the establishment he used to call home, combing his way into the souls of unsuspecting customers.
Zoo: Haunted animals. Always a winner.
The White House: A new first family takes shelter in the Oval Office, but unbeknownst to them, the Pennsylvania Avenue residence is riddled with ghosts of past presidents, all trying to live out their conflicting legacies in the most horrific of fashions. Ghost Van Buren, not a pleasant sight.
Ice Cream Truck: When you hear that music playing, stay far, far away…
Uncharted Island: They can have a bunch of people stranded there after a plane crash. Maybe the isle has some kind of ghost or monster lurking around, or a creepy society of zealots that has been there for generations. Beams of white light emanating from mysterious caves! Immortal gods! Time-travel! Actually, no. This would never work.
Bodega/Truck Stop: A remote 24-hour establishment that people only frequent during the late hours of the night, sometimes with sordid intentions or mysterious origins. Perfect for some good ol' ghostly encounters.
Snow Globe: This one actually doesn't pose too much of a problem. Just don't drop it.
Cruise Ship: The real horror story is that there's no free buffet!
Where do you think AHS Season 3 should take place?
More:
'American Horror Story' By the Numbers: Bloody Face Is Revealed
'Arrow' React: I See Your List of Evil People, and I Raise You Street Crime
New 'Game of Thrones' Season 3 Poster Revealed: Check It Out!

Prince Harry's 'Naked Vegas Party Pal' Carrie Reichert Writing a Tell-All Book — EXCLUSIVE
(Celebuzz)