'American Horror Story' Season 3 Scoop: Horror-Comedy 'Crafted Around' Jessica Lange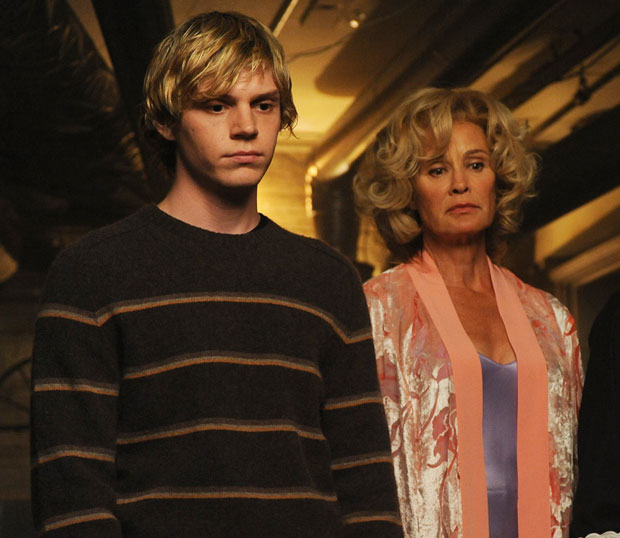 "I think I'm done with aliens," American Horror Story creator Ryan Murphy chuckled after a viewing of next Wednesday's season finale of the buzzy miniseries.
Fortunately for Murphy, he has tons of ideas for the upcoming season of AHS, and shared some of the non-spoilery bits with the press. In a room full of fans that also happened to be reporters, Murphy was careful with his choice of words, but was able to give enough information to keep the speculation train running well into production.
Fans of the series know that there were several hold overs from season one into season two, actor-wise: Lily Rabe, Jessica Lange, Evan Peters, Dylan McDermott, Zachary Quinto, and Sarah Paulson — an idea that delighted fans who were looking for a connection to the previous season, knowing that the story lines and characters would all be different. Would the same be said for season three? Well yes, partially! Murphy confirmed that at least three of the characters from season two would be returning: Lange, Paulson, and Peters. But who will they play? Details were scarce, but Murphy explained it thusly: "I already know who Sarah's playing," though he noted that the star herself has no idea. And as for Peters, who took on a decidedly different role in season two than season one? "Next year he'll probably go back to being a sobbing psychopath," Murphy quipped.
But those aren't the only characters making a comeback. Murphy explained that he's hopeful several actors from season one would return for season three. "We are going to have some actors from season one that will return, [and] those actors are interested in [doing] that." (Anyone else hankering for a little Connie Britton return?) While he was slim on names, it seems that actors have begun banging down his door — and not just for Glee — including, it seems "people with multiple Oscars." And if that wasn't enough, Murphy also explained that he's already meeting with several actors who are sure to be promising additions to the series.
Why's that? Jessica Lange, natch. Murphy's Horror muse has "sort of become an uncredited producer on season three." Mostly because Lange "loves doing the show." Her work as an unofficial producer has already brought in some suggestions: namely actors with which she's always wanted to work. And that tale — which Murphy has mentioned has been hinted at a few times during season two — will be decidedly different from season two. "It's a very different tone in season three," Murphy said. "It's lighter and more fun and funny."
Funny and horror combined seems like a wildly different turn than seasons past, but Murphy feels confident in his choice. "The thing i really wanted to do next season … I really want next season to be funnier," Murphy explained. "I really miss that." One thing that elevates humor? Eccentric women at the center. Enter: next seasons potential star. "…it's really about female power. And I got Jessica to do it because I did everything she asked, which was the location, and I also told her that she'd have complete hair and make-up and the best designer gowns." A great female icon at the center of a comedic horror story? Color us impressed and intrigued, Murphy. Just remember Lange's one request: "She said 'please don't put me in a wimple again!' So she's going to play a really glamour cat sort of lady."
As for the time, Murphy feels a return to modernity is the key to telling this sort of American horror. "You will see a very different; it's a modern-day story." And that story has very personal interest for him—beyond the typical horror fascination that the writer is known for: "I always start off with the story … the season we're just about to do is another thing like the Asylum thing that I was always really interested in as a kid." No offense, Ryan, but you must've been one dark child!
Don't expect that well of personal fascination to run dry anytime soon, though. Murphy hopes the show runs for "10 years" and that he has "so many different kinds of horror I want to write about." The horror, the horror!
American Horror Story's season finale airs Wednesday, January 23rd on FX.
Are you looking forward to season three of American Horror Story? Tuning in for the season finale of season two? Let us know in the comments!
[Photo Credit: FX]
Follow Alicia on Twitter @alicialutes
More:
'American Horror Story' By the Numbers: The Flying Nun
'American Horror Story' By the Numbers: Happy Endings
'American Horror Story' By the Numbers: Nun the Wiser

54 Cutest Celebrity Kids! (Celebuzz)